FAQs - Compassion's policies
Is Compassion a vegan/vegetarian society?
Compassion in World Farming is the only charity that campaigns exclusively for the highest welfare standards for farm animals reared for food.
We are not a vegetarian or vegan organisation, nor do we seek to promote animals as food.
For those who do consume animal products, we encourage a move towards reduced meat consumption and we fully understand and respect that many of our supporters are vegetarian and vegan.
What is Compassion's stance on religious slaughter?
Compassion in World Farming values religious freedom, however we believe that all animals should be effectively stunned prior to slaughter. In order for slaughter to be as humane as possible, it means death without suffering. This is possible if:
The slaughter method kills the animal instantly (e.g. with some electric stun-kill methods)
The animal is rendered instantly insensible to pain before slaughter by being stunned and remains entirely unconscious until death
The slaughter method is non-aversive and does not cause pain or distress (e.g. with some inert gas killing methods)
We will continue to lobby for the removal of the exemptions that allow non stun slaughter from the UK and EU legislation.
Read more about Halal chicken slaughter.
What does Compassion do to end foie gras?
We campaign for the practice to be banned and encourage higher welfare alternatives through our campaigning and lobbying. We also encourage supporters to inform us of companies selling foie gras, so we can educate them about the cruelty involved in production. You can let us know about companies selling foie gras by emailing us.
Do you work on animals farmed for other industries, such as fur?
We believe that the biggest cause of cruelty on the planet deserves a focused, specialised approach – so we only work on welfare issues related to animals farmed for food.
---
Share this page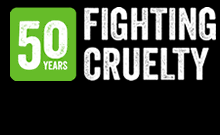 1967-2017: relentless
You can get in touch by...
Phone
You can call our supporter line on
+ 44 (0)1483 521 953
Lines are staffed
9:00am - 5:00pm
Monday to Friday
Please note that the supporter line is for supporters and the general public to find out more about our work.  We do NOT accept sales calls.
For other enquiries, please contact the main switchboard on + 44 (0)1483 521 950. Please note, as a charity, we are unable to accept unsolicited sales calls.
Email
Post
Compassion in World Farming,
River Court,
Mill Lane,
Godalming,
Surrey,
GU7 1EZ,
United Kingdom
How to find us