Dr. Bronner's and Compassion
For animals, people and the planet
You can support Compassion in World Farming through your ethical purchasing power! For every 473ml and 946ml bottle of Dr. Bronner's soap sold in the UK, a 20p donation will go towards improving the lives of farm animals.
So, not only can you benefit from buying this wonderful, ethical soap, but you'll also be fighting factory farming – so your conscience can be squeaky clean! 
Compassion has a lot of work to do before all farm animals live a healthy life, free from suffering. Unfortunately, two in three farm animals on this planet today are enduring 'life' in intensive farms – caged, confined, selectively bred to grow so fast that their legs and hearts may give way. And very often consumers don't have a clue.  
Marketing matters
Take a look at this film about the secrets of food marketing to see some of the tricks and disguises used by the food industry... over 6 million views and counting.
Some food companies are not giving their consumers a clear and transparent choice. Misleading labelling terms such as "farm fresh" can be used on eggs, dairy and meat to disguise the fact that this food has come from a cruel, wasteful, polluting factory farm.   
Compassion in World Farming is working towards a truly humane, sustainable farming system – for the sake of animals, people and the planet. Will you join us?
Join the campaign to end factory farming
Please sign up below to receive our email updates and join the fight to end factory farming.
And click below to join the conversation on social media:
Why not take the next step for farm animals, and make a gift to Compassion today? Compassion's campaigns have already seen the beginning of the end for many of the worst aspects of factory farming. We are one of the leanest, most cost-effective global charities who achieve extraordinary things with the resources gifted to us by our supporters. Your support can help us change billions of lives.
Donate today
Thank you
---
Share this page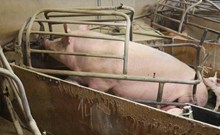 Donate today
Get email updates
Keep informed about urgent actions and other ways to help
Get email updates Keep informed about urgent actions and other ways to help
Donate with PayPal