Major Campaigns
Campaigns that require URGENT funding.
Project Pig – With the backing of our funders over recent years, Compassion has exposed the cruelty inflicted on Europe's pigs and tirelessly campaigned to protect them. Together we have even helped change the law! Since January 1st 2013 it has been illegal to confine pigs in cage-like sow stalls for the majority of their lives. More than 13 million animals are set to have their lives greatly improved because of this legislation each year, a huge step forward for the welfare of such intelligent, sociable and active animals.

We must now continue our work to ensure that all 27 EU nations fully comply with this new animal welfare legislation. Unless we increase our efforts to stamp out the cruelty once and for all, the law will be broken and our hope of seeing an end to cruel confinement and deprivation will be dashed.

Farmageddon – Our Farmageddon campaign looks at not only the horrific standard practices in the rearing of farm animals, but also the detrimental effects that factory farming has on our health and on the planet.

With the aid of our supporters, we have launched an ambitious, campaigning initiative to kick-start a food and farming revolution.

Cage-Free – Millions of animals are still forced to endure confinement in cages, so this year we are stepping up our campaigning. Our new 'Cage Free Europe' Campaign will work at making the use of cages within farming a wholly unacceptable practice at policy, industry and public levels.

We will challenge this iconic symbol of factory farming to achieve legislative change to ban the use of cages entirely. Our new campaign will work to ensure that cages for farmed animals are consigned to history.
---
Share this page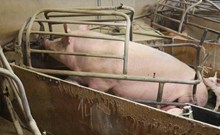 Donate today
Contact us
To find out more about our work and current priorities or discuss a funding partnership with Compassion, please contact majorgifts@ciwf.org.uk or call us on +44 (0) 1483 521 967.