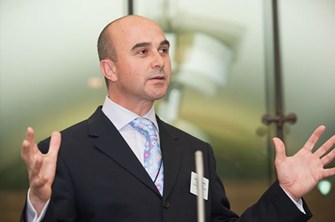 Philip Lymbery
Chief Executive Officer
Our aim is simple: to put an end to factory farming within a generation. We're already making progress and I'm optimistic about achieving our goal.
Philip Lymbery is Chief Executive Officer of Compassion in World Farming. He is also a Visiting Professor at the University of Winchester and Vice-President of Eurogroup for Animals, an animal welfare umbrella organisation based in Brussels. An award winning author, ornithologist, photographer, naturalist and self-confessed animal advocate, Philip has worked extensively on animal welfare, wildlife, and environmental issues for 25 years. He regularly commentates in the media and on speaker platforms about the global effects of industrial farming.
Described as one of the food industry's most influential people, Philip has played a leading role in many major animal welfare reforms. These include EU-wide bans on veal crates for calves and barren battery cages for laying hens.
Philip has authored two books. His debut, Farmageddon: The True Cost of Cheap Meat, shows how factory farming is not only the biggest cause of animal cruelty on the planet, but is also at the centre of our broken food system. It received international acclaim and was one of The Times Writers' Books of the Year in 2014. The Mail on Sunday cited it as a compelling 'game changer'. This was followed by the publication of Farmageddon in Pictures: The True Cost of Cheap Meat, a pictorial version of the original.
Philip's second book, Dead Zone: Where The Wild Things Were, shows how factory farming is a major driver of wildlife declines worldwide. From iconic mammals, to sea life, birds, reptiles and insects; once plentiful species now face extinction due in large part to the drive for cheap meat. It too, was chosen as one of the Daily Mail's 'Must Reads' and described by New Statesman as 'Highly informed, utterly compelling. Lymbery's narrative threads are subtle and replete with powerful evidence. He does a superb job of equipping us with the hard facts. No author can do more'. All proceeds of Philip's books go to Compassion in World Farming.
Awards during Philip's tenure as CEO at CIWF include: The Observer Ethical Award for Campaigner of the Year; BBC Radio 4 Food and Farming award for Best Campaigner and Educator; and The 2015 'International Golden Dove' peace prize in Rome.
Further information
To find out more about Philip: