Leave a legacy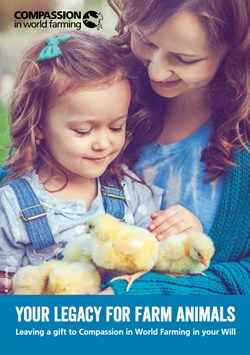 Imagine a future where all farm animals are treated with compassion and respect. This is a beautiful legacy that anyone can leave with a gift in their Will. Leaving a gift to Compassion in World Farming can ensure that your values, passion and commitment to ending factory farming will continue.
Request your free legacy pack today
Joanna Lumley on leaving a legacy
I've seen what Compassion has done to alleviate the harm done to factory farmed animals. By Remembering Compassion in our Wills, we can leave behind us a legacy that can look after the way that creatures are farmed in the future.
Joanna Lumley
Actress and Patron of Compassion in World Farming
Gifts left to Compassion in Wills are vital to protect farm animals
As you might know, Compassion in World Farming receives no government funding. The fight against factory farming depends upon donations from supporters – and gifts in Wills make a huge contribution. In fact, without legacy giving, up to half of Compassion's campaigning, lobbying, investigations and work with food companies would not be possible.
Without the generosity of those who remember Compassion in their Will, we simply could not do what needs to be done to advance the well-being of farm animals around the world, now and in the future.
If you're thinking about leaving a gift of compassion, there are a number of ways we can assist you. From a helpful booklet of advice – 'Your Legacy for Farm Animals' – and our Free Will writing service, to acting as executors, our Legacy Team can help to make the process as easy as possible.