FAQs - Making a donation
How can I donate?
Thank you for wishing to make a donation to Compassion! We have a range of ways in which you can contribute to our work on our donations page. 
What is Gift Aid?
Gift Aid can be applied if you are a UK taxpayer, for every £1 you donate we can claim back 25p without any cost to you. Please let us know if we can claim Gift Aid on your donations.  Compassion in World Farming can reclaim tax on all donations you've made in the last 4 years, and until further notice, at no extra cost to you. In order to qualify for gift aid you must have paid or will pay UK Income Tax and/or Capital Gains Tax at least equal to the tax that will be reclaimed by all charities or Community Amateur Sports Clubs on your gifts for each tax year. Please note that other taxes such as VAT and Council Tax do not qualify. Compassion can claim 25p for every £1 donated if these conditions are met.
How do you spend supporter's donations?
Please see our online annual review which outlines how we use our supporters' generous donations. For every £1 we receive we spend 80p directly on our work.
---
Share this page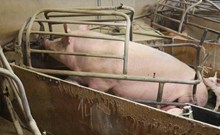 Donate today
You can get in touch by...
Phone
You can call our supporter line on
+ 44 (0)1483 521 953
Lines are staffed
9:00am - 5:00pm
Monday to Friday
Please note that the supporter line is for supporters and the general public to find out more about our work.  We do NOT accept sales calls.
For other enquiries, please contact the main switchboard on + 44 (0)1483 521 950. Please note, as a charity, we are unable to accept unsolicited sales calls.
Email
Post
Compassion in World Farming,
River Court,
Mill Lane,
Godalming,
Surrey,
GU7 1EZ,
United Kingdom
How to find us