Thank you so much for thinking of leaving a gift in your Will for farm animals.
By remembering Compassion in World Farming in your Will you can help ensure that future generations can live in a better, healthier and kinder world. Your legacy could be a reality where all farming works with, not against, the needs of animals and of our planet.
Louise's Story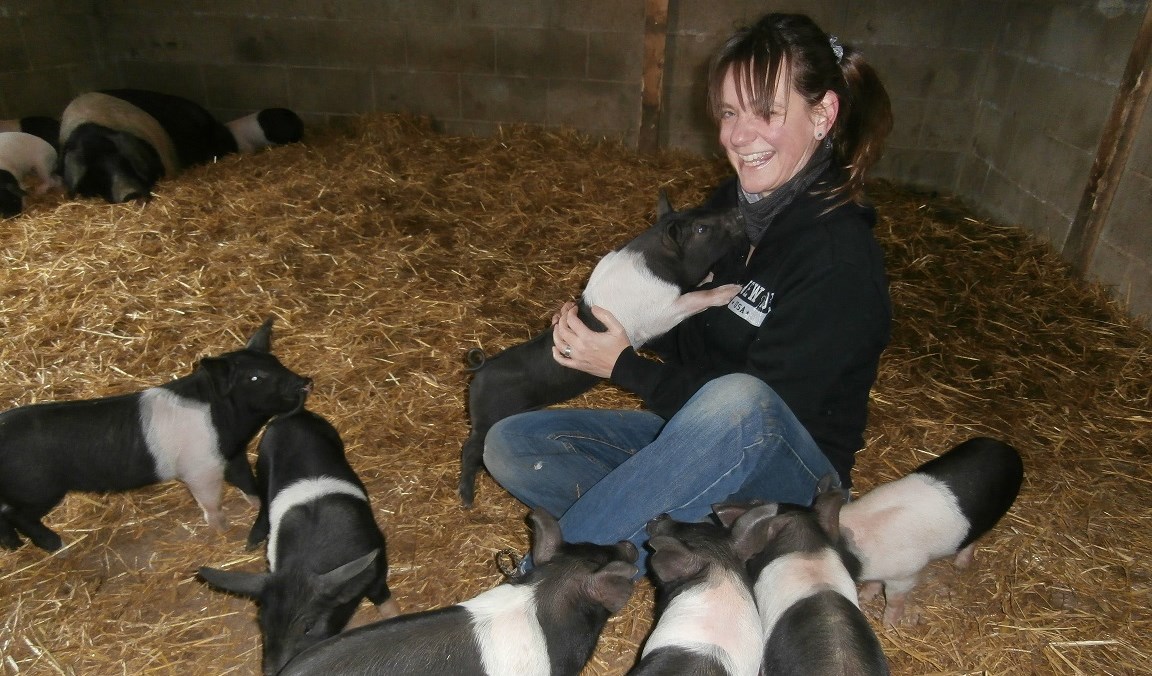 "My husband and I slowly built up our smallholding over many years. We learned that all of our animals were individuals, with personalities and quirks unique to them; sentient, intelligent creatures who built relationships with us and learned to trust us.
It was at the start of this journey that I became a Compassion supporter and learned how completely alien our charges' lives were to billions of animals consumed on our planet every year. Animals who often experience fear and distress from the moment of their birth, live short, unnatural lives considered only as commodities, and meet an early end in terrifying mass slaughterhouses.
I make a monthly donation to Compassion and do my bit by selling raffle tickets, signing petitions and talking about the issues around food and farming at every possible opportunity.
Now I have decided to leave a legacy in my Will and I am pleased to say my husband has followed suit. So, when we die, we can continue to support the amazing work of this organisation in tirelessly campaigning to change the world for each and every last animal farmed."
- Louise, Compassion supporter & smallholder
If you don't already have a Will, or you need yours updating, there are ways we can help:
Our helpful pack 'Your Legacy For Farm Animals'
Advice on leaving a gift for farm animals is available in our free legacy information pack, which you can order using the online form. The pack provides information to include when writing your Will and answers some frequently asked questions about the Will writing process. If you would prefer a digital copy please download your pack here.
Compassion's Free Will Writing Service

Get your Will drafted for free by a fully qualified solicitor. Order your National Free Wills Network information pack* using the form.
If you are looking to make or update your Will, you may be interested to know that Compassion offers a Free Will Writing service for supporters and their spouses/partners. You can have a simple Will drafted, by a local, qualified solicitor, with the cost picked up by Compassion.
When you order your free pack* you will receive a list of local solicitors participating in the scheme. You then separately make an appointment with a solicitor of your choice. The Will writing service may only be used once, but is open to any Compassion supporter living in the UK, of any age, and is available all year round.
*If you request an information pack, your details will be passed to Capacity Marketing Ltd, who operate the National Free Wills Network, and who will send you a list of participating solicitors in your area. This service applies to the writing of simple Wills, the cost of which will be passed on to Compassion in World Farming. If your chosen solicitor advises you that your Will is more complicated, you will be asked to pay the solicitor for the extra work. Should this be the case, it is of course your decision whether to proceed with this service. You are not obliged in any way to leave a gift in your Will to Compassion in World Farming.
Compassion's Executorship Service
During the process of making your Will, your solicitor will ask who you would like to act as your Executor. If you are leaving a gift to Compassion, we are able to undertake this role, and can even store a copy of your Will securely. Email us to find out more about our Executorship service: legacy@ciwf.org
Please tell us about your gift
If you have already made a gift for farm animals in your Will, we would be so grateful if you would let us know of your decision to remember Compassion. We would like to thank you properly for your wonderful generosity.
You can use the online form here to let us know about your legacy, in confidence, and without making your gift binding in any way.
If you have already made a gift and you would like to tell us what it means to you please email us at legacy@ciwf.org, we would love to hear from you.
Why your legacy is so important
Please use the form below to request your free legacy pack or call 01483 521 953.
WARNING: Content contains images of animals suffering
Thank you for watching.
Contact us about leaving a gift for animals
Thank you so much for your interest in leaving a lasting legacy of compassion and kindness for farm animals. To get in touch about a gift in your Will, please scroll down to fill in the form below. Alternatively, please email legacy@ciwf.org or call 01483 521 953 (lines are open Monday – Friday 9am – 5pm).