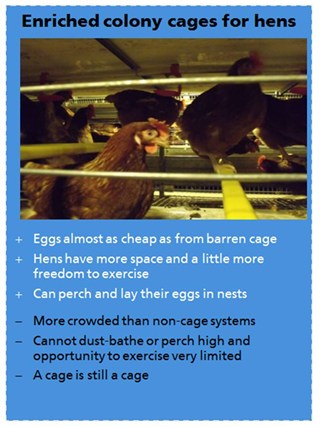 Children of all ages care about animals, and can be engaged by a consideration of how they are treated in farming. Meanwhile, the way our food is produced is a growing topic of debate in society, of importance in Citizenship, science, geography, moral and religious studies, English and any other subject which would benefit from engaged ethical discussion.
The stimulus material in this exercise is presented in groups of four cards, each of which describes a system (or issue) in animal farming. For example, hens can be kept in battery cages, colony cages, barns or free-range. Students discuss the rights and wrongs of each system and whether or not they agree with eggs being produced in these ways.
The cards can also be used:
In sorting activities to increase understanding of different methods of farming
In role play activities to consider the views of different interest groups such as consumers, farmers or animal welfare supporters
As a source of information
Additional information is provided on the back of each card for extension work. This material also lends itself to differentiation in mixed ability groups of students. We recommend that this resource is used in conjunction with Farm Animals & Us (for ages 10-14) or Farm Animals & Us 2 (for ages 14-adult).
Download
You can download this educational resource:
Or download the entire package here.
This new resource has been developed from the Where Do You Draw the Line? activity in our Farm Animals & Us teachers' pack. We plan to develop similar resources to cover ethical issues around selective breeding and the environmental impacts of farming systems.