Deborah Meaden & Marc Abraham OBE join almost 400,000 people calling on both the UK & Scottish Governments to End the Cage Age
Published 12/12/2022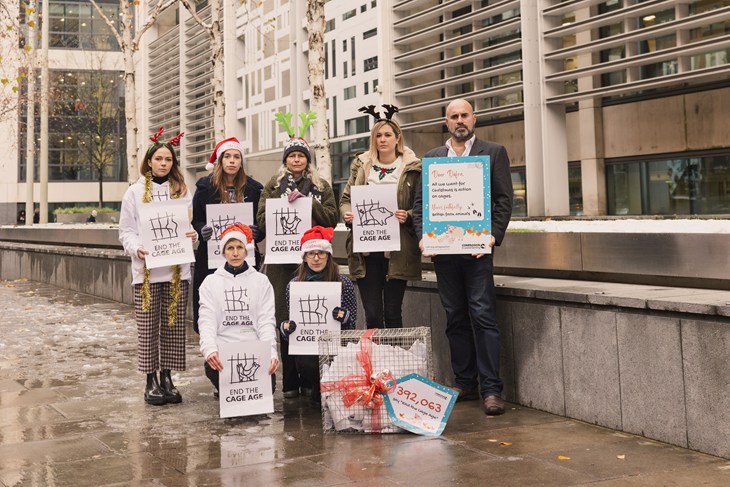 Today (12th December ), Compassion in World Farming submitted a petition to Defra in London and the Scottish Government in Edinburgh, calling for an end to the use of cages in UK farming.
Almost 400,000 people signed the petition urging all the governments across the UK to End the Cage Age and to usher in a new era in farming of which Britain can be truly proud.
Up to 16 million farm animals are trapped in cages every year in the UK. Sows are forced to nurse their piglets in crates, and egg laying hens endure their whole lives crammed in cages, with barely enough space to stretch their wings. These systems cause immense misery, are cruel and unnecessary.
Despite the UK and Scottish Governments promising consultations on the use of cages in farming, both have yet to take any meaningful action to free millions of animals from behind bars.
In June, the UK Government announced they would bring forward consultations on the use of cages for laying hens and crates for farrowing sows but failed to set a timeline for this to happen. Six-months later, no further progress has been made.
In their 2021-22 'Programme for Government', the Scottish Government stated that they would "start consultation this year on proposals to… phase out cages for gamebirds and laying hens, and farrowing crates for pigs." This follows a 2021 SNP manifesto commitment to "adopt the highest possible animal welfare standards, including shifting to entirely free range, woodland or barn chicken and egg production." As with the UK Government, this commitment hasn't led to action, and the promised consultation has not yet happened.
Dragons' Den entrepreneur Deborah Meaden, who added her name to the petition, said: "Both the UK and Scottish Governments have failed to deliver their commitments to review caged farming. This simply isn't good enough!
"Cages inflict immense misery on enormous numbers of UK farm animals. They are cruel and unnecessary, as higher-welfare cage-free systems are viable. It's time for UK and Scottish Governments to free millions of animals from a life of suffering behind bars."
The names of 392,063 people who signed the petition – including Deborah Meaden – filled a cage, once used to farm rabbits, which was wrapped and then presented to Defra as a Christmas 'gift' by vet and author Marc Abraham OBE. Campaigners from the NGO stood alongside Marc with placards which read 'Dear Defra, All we want for Christmas is action on cages'. A cage was also be delivered to the Scottish Government.
Sarah Moyes, Compassion in World Farming's Senior Campaigns Manager, said: "Right now, millions of animals are suffering, in cages across the UK. That's why we have presented the names of almost 400,000 people to Defra today, who finally want to see action on cages. Defra and the Scottish Government have made pledges, now it's time to follow through and deliver. It's time to End the Cage Age."
~ends~
For images, further information or to book an interview, contact Compassion in World Farming's Media Team: 01483 521 615 media.team@ciwf.org