Published 01/10/2015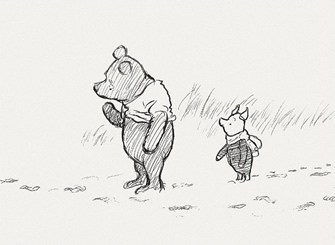 From AA Milne's Piglet to Dick King-Smith's Babe, farm animals appear in some of our best-loved books. Here, we explain why the genre may need reinventing to reflect the harsh realities (well, some of them!) of life on most 21st-century farms.
When you think of animals in literature, a number of children's classics immediately spring to mind.
Whether you loved Dick King-Smith's farmyard fantasies, AA Milne's Winnie-the-Pooh stories or the tales of Beatrix Potter, bookshelves across the land groan under the weight of these dog-eared favourites, decades after their publication.
So why are talking animals so enduringly popular? When it comes to these classics, it's simple – children are drawn to animals, who serve as great vehicles for tales of daring and adventure. The trials and tribulations of non-human characters running riot in the countryside can be incredibly exciting, compelling those little fingers to turn the page.
Fairy tale farming
But these much-loved books often paint a picture of farming that's more rosy than it is realistic. Nine times out of ten, these fictional farms feature ruddy-cheeked farmers and their happy animals, who are free to roam rolling green fields and pretty meadows.
At times, we do see flickers of the more sobering aspects of animal husbandry – the shadow of slaughter, for example, follows Wilbur the pig in Charlotte's Web and Babe in The Sheep-Pig – but that's the extent of it. These stories are the stuff of dreams, which is perfect for a bedtime story but not, perhaps, for raising a new generation that is equipped to change the world.
A matter of timing
Since much of the classic literature we're talking about here was written before the advent of factory farming, when land-based agriculture was the norm, you could say that it presents a fairly faithful view of how farming used to be.
But here's the thing: even contemporary kids' pop culture paints a relentlessly glossy image of farming, avoiding the harsh realities of food production at all costs.
A knowledge gap
On one level, of course, it's great for kids to indulge in this farming fantasy and aspire to a wholesome outdoor way of life. But, given the current state of our broken food system, it's worrying that the next generation are being kept in the dark about life on most farms today.
Pretending that these idyllic, idealistic images are the norm perpetuates a disturbing – even damaging – lack of awareness in society about how animals live and where our food really comes from. And, if children aren't armed with the facts, creating a sustainable farming future will be very hard to achieve.
Balancing fact with fiction
So what's the solution? We're not suggesting that kids should ditch these adored animal adventures and focus on the full horror of factory farming – not only would that ruin the magic of storytelling, but it would probably traumatise a whole generation.
We're suggesting that children's literature could work a bit harder to open young eyes to the truth about most modern farms – while still being fun – so that kids don't grow up believing all animals lead happy lives in flower-filled meadows.
A new take on Horrible Histories
We can't deny that Pooh wouldn't have had such fun in the Hundred Acre Wood if Piglet had spent his days in an intensive pig unit and that Peter Rabbit's life would be dull to read about if he'd been kept in a cage, but there are bound to be more subtle and sophisticated approaches to weaving the truth about farming into literature than this.
After all, conveying weighty issues while retaining kids' attention is hardly a new thing – take the huge success of the Horrible Histories franchise, with its irreverent take on dark and gruesome events in history, as an example. Should Fearsome Factories be next?
Getting creative
We think it's time for storytellers to get more creative with content and capitalise on the happy-ever-after theme, creating stories where farm animals escape factories and head, quite literally, for the hills.
Pop-up, picture and colouring books could also be used to soften the blow of the truth, while keeping kids engaged, in the same way our satirical website Your Farm does.
And who knows: some young readers might grow up inspired to secure a real-life happy ending for the billions of farm animals who spend their lives in factory farms, ensuring that these cruel systems end up being nothing more than a truly horrible history.
How would you balance farming fact with fiction in children's literature? Let us know your thoughts on Facebook or Twitter.