Published 18/07/2017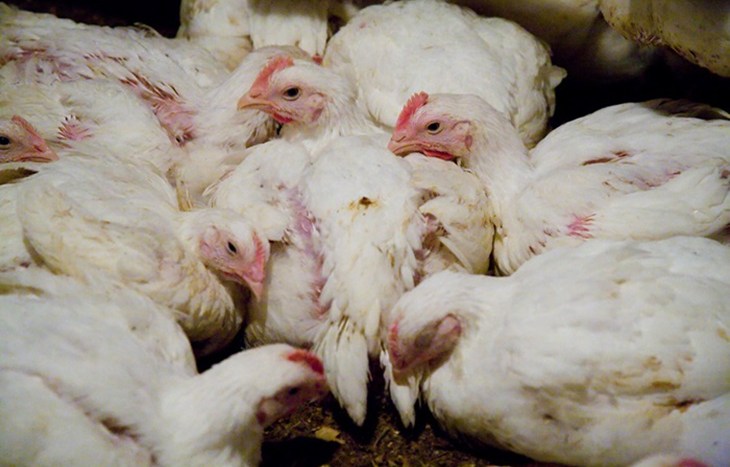 This week, we launched our interactive 'Factory Farming Map' which illustrates the shockingly high numbers of livestock reared indoors across the UK.
Growing pressure
The map – which was made possible thanks to the generosity of many of our supporters – shows 'hotspots' in counties where large numbers of animals are reared indoors and demonstrates how factory farming has spread across the country.
Whilst it is often claimed that the UK has the highest standards of animal welfare world-wide, around 70% of the UK's farm animals are kept in factory farms every year.
British farmers are under growing pressure to use more intensive methods to produce huge quantities of cheap meat, eggs and dairy. But this comes at a great cost to animal welfare, to human health, and to the environment.
A worrying trend
As reported in the Guardian yesterday, the map displays the number of dairy cows, laying hens, broiler chickens and pigs estimated to be permanently housed indoors in the UK, as well as overall indoor reared livestock per region. Many counties associated with vast, green pastures and extensive grazing are in fact some of the areas with the highest numbers of indoor-reared farm animals.
The ten counties with the highest number of livestock reared indoors:
Herefordshire
Shropshire
Norfolk
Lincolnshire
County Tyrone
North Yorkshire
Suffolk
County Antrim
Somerset
Gloucestershire
The combined total of the top ten counties alone stands at almost 91 million animals confined indoors without access to natural daylight, fresh air or the ability to display their natural behaviours.
Emma Slawinski, our Director of Campaigns, said: "These results indicate a worrying trend in the growth of intensive agriculture in rural areas to produce cheap meat, eggs and dairy. Bringing animals off the land and cramming them into squalid, inhumane factory farms is not only cruel to animals but also has far reaching effects on human health, wildlife and the planet.
"Moving animals away from the countryside into cages and crowded sheds may seem like a space-saving idea, but this ignores the fact that vast amounts of land are used elsewhere to grow feed for them."
Wipe factory farming off the map
You can help to wipe factory farming off the map by writing to your MP and asking them to support a new vision for farming.