ASC urged to reverse cruel fish policy
Published 03/02/2023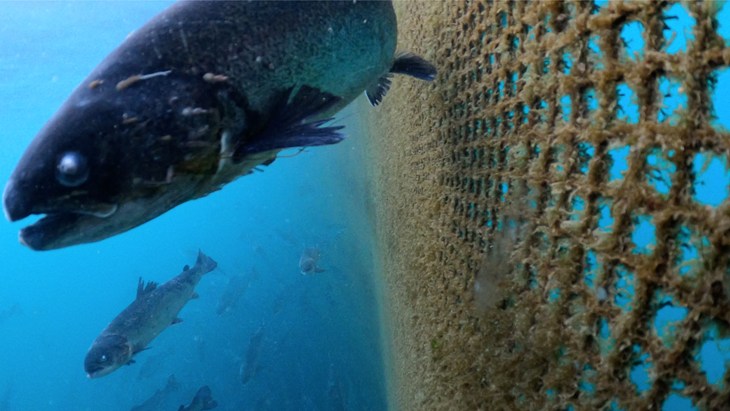 Today (3rd February), we have written to one of the world's largest seafood certification schemes, the Aquaculture Stewardship Council (ASC), urging them to reverse a recent policy change that will allow millions of fish – including salmon farmed in Scotland – to endure more suffering.
The scheme – which certifies seafood around the world – has lowered its 'acceptable' level for sea lice in salmon which, which in Scotland could mean a shocking five-fold increase in levels.
Painful wounds and injuries
Sea lice are a widespread problem in farmed salmon due the animals' close confinement. These parasites literally eat away at the fish causing painful open wounds and injuries to their gills and mouth and can even lead to the death of infected fish.
Dr Krzysztof Wojtas, Head of Fish Policy at Compassion in World Farming, said: "The Aquaculture Stewardship Council should be improving its fish welfare standards to meet the expectations of consumers, not lowering the bar and allowing fish to suffer more.
"Last year we welcomed the introduction of basic draft welfare standards by ASC. However, this policy change is deeply disappointing and represents a significant step backwards for the scheme. It will allow farms to lower their standards on sea lice and force millions of farmed salmon to endure more suffering through painful infestations.
"Fish are sentient creatures and recent scientific research has discovered that they not only feel pain and experience fear but – like many other animals – they explore, travel, socialise, hunt and play. All farmed fish deserve to have lives worth living in environments that meet their physical, mental, and behavioural needs.
"We have written to ASC urging them to reverse this policy for the sake of the millions of fish around the world who will suffer the pain and distress its implementation will cause."
Better fish welfare standards needed
The ASC certifies salmon farms in several countries around the world including Scotland, Norway, Chile, Canada, Faroe Islands, Iceland, Japan, Denmark, and Australia. The protocols in place to control parasite infections are crucial to the welfare of hundreds of millions of salmon around the world every year. 
We are campaigning to get fish certification schemes to introduce welfare standards for fish. While many include sustainability standards, few have welfare standards, contrary to the expectations of many of their consumers. The four major international schemes certify around 8% of fish killed globally, which equates to many billions of fish.
Read more about our Rethink Fish campaign.