The global trade in live animals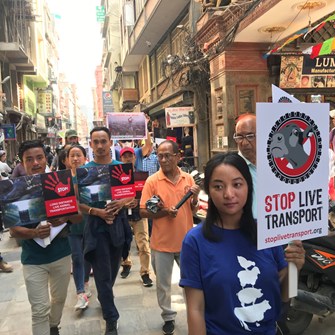 Long distance live animal transport is a worldwide phenomenon. In North and South America, Australia, Asia, Africa and Europe, animals often endure journeys across vast distances before long voyages at sea to reach their final destination, which often results in slaughter.
Live animals, including calves, cattle, sheep, pigs, goats and horses are routinely transported by road, rail, sea or air across continents.
The UK
Live Exports
In the mid-1990s, over 2.5 million animals were transported live from the UK to be fattened and slaughtered in Europe. Thanks to the support of countless people like you, this number has dropped significantly. However, thousands of calves and sheep are still exported by sea and road from the UK as far as Spain and Italy, despite the widespread opposition of the local community, the British public and a number of MPs.
In addition, there is a substantial export trade in young calves from Northern Ireland to the continent. Many of these animals travel for days, only to be slaughtered or fattened for slaughter at journey's end.
Lobbying
The Harbours, Docks and Piers Clauses Act (1847) states that all ports must allow the free trade of 'goods', including farm animals. So, by law British public ports must allow lorries full of animals to pass through, even if the port authority doesn't agree with the trade. It's time this law was updated so that ports can legally refuse consignments of live, sentient, animals without fear of legal repercussions. If the UK does get challenged by the EU the Government should stand up for the animals facing export, and take the case to the European Courts if necessary.
The EU
Long Distance Transport and Live Exports
In Europe alone, around six million farm animals are transported on long journeys across the continent with some journeys taking three days or more. On top of this, every year, over three million cattle and sheep are exported from the European Union to non-EU countries. Hundreds of thousands are destined for Turkey, The Middle East, North Africa and even as far as Singapore. When European animals are exported outside of the EU, they leave behind the legal protection they received in the EU. The result can mean squalid housing, brutal handling, torturous restraint systems, and slow, painful slaughter.
In one incident, investigators witnessed a truck of bulls which set off from Latvia being delayed at the Turkish border for 6 days. The truck had already travelled for 2600km over 5 days. When they were eventually cleared to enter Turkey, they still had another gruelling 2000km to go to Iraq.
Lobbying 
We're working hard to lobby politicians to support a ban on the export of live animals from the EU for slaughter and fattening. Many MEPs are in favour of improving conditions for animals in transport and have voted to impose an overall limit on journey times. In its last sitting, the European Parliament voted in favour of a limit to journey times, but the European Commission failed to support this change, resulting in no change in the law. We make formal complaints to Member States regarding their failure to comply with Community legislation on the protection of animals during transport. The Commission has itself confirmed that it cannot safeguard the welfare of EU animals once they are exported outside EU borders. We believe this is a clear reason to stop the trade once and for all.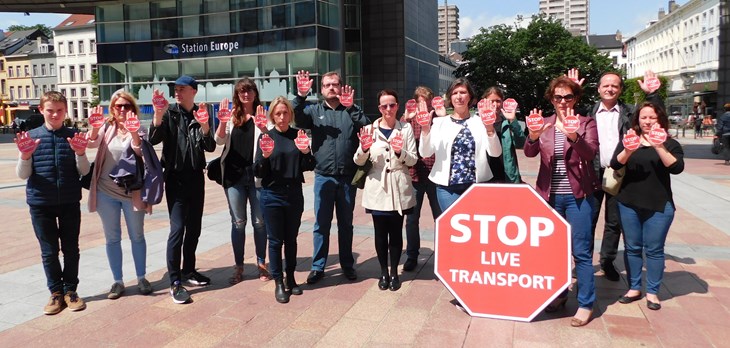 The Global Trade
Australia
Australia exports around two million live sheep every year, mostly to the Middle East, in vessels carrying as many as 85,000 animals. They may have travelled up to 50 hours by road to get to the sea port, followed by a journey of three to five weeks by sea and a further journey by road to the final destination. Shockingly, thousands of these animals die every year before they reach their destination. Despite the implementation of an export supply chain assurance scheme by the Australian government, investigations by animal welfare groups have documented terrible suffering at slaughter after export. Australia also exports over 1 million cattle each year, mostly to Asian countries.
In 2003 the Corm Express carried 58,000 sheep from Australia to Saudi Arabia but was not allowed to unload. The sheep remained on board for three months in appalling and deteriorating conditions. Over 5,000 died.
Canada
Canada transports farm animals thousands of miles within its borders as well as to the US. They experience exceptionally harsh conditions as the climate changes from freezing cold to the scorching sun. The trucks used are often unheated with no air conditioning. 
India
In India cattle are transported across the country, and these animals are also often brutally treated and overcrowded during transport, resulting in severe injuries and fatalities.
South America
Every year, countless animals are exported from South America to be reared for beef production in Asia and Africa. These journeys can often involve the animals spending weeks at sea and result in the animals being slaughtered in inhumane conditions. When welfare problems do occur, they can often be disastrous.
Fire, delays or sinking of livestock ships result in the suffering and death of large numbers of animals. In December 2009 more than 17,000 cattle and 10,500 sheep were reported drowned when the Danny F II ship transporting them from Uruguay to Syria capsized in a storm off the coast of Tripoli, with the loss of the Captain and several crew.
The Middle East
The Middle East is one of the world's biggest importers of live animals, with animals coming from as far afield as Eastern Europe, South America and Australia. On arrival, these animals are often subject to poor welfare and inhumane slaughter.
Take action
Find out how you can join us in taking action to end this horrific global trade.