Hundreds of millions of pigs around the world are kept in factory farms. Just under 1 billion animals in the world today are pigs. Over 500 million of these pigs live in industrialised systems, known as factory farms. Being kept in such intensive conditions has severe health and welfare implications for the animals involved.
Compassion in World Farming has campaigned for many years to ensure higher welfare standards for pigs. During this time we have seen vital steps forward, including the recognition of animals as sentient beings within the EU (Lisbon Treaty, 2009), and the passage of legislation such as Council Directive 2008/120/EC laying down minimum standards for the protection of pigs.
What we are doing: Project Pig
Getting sows out of stalls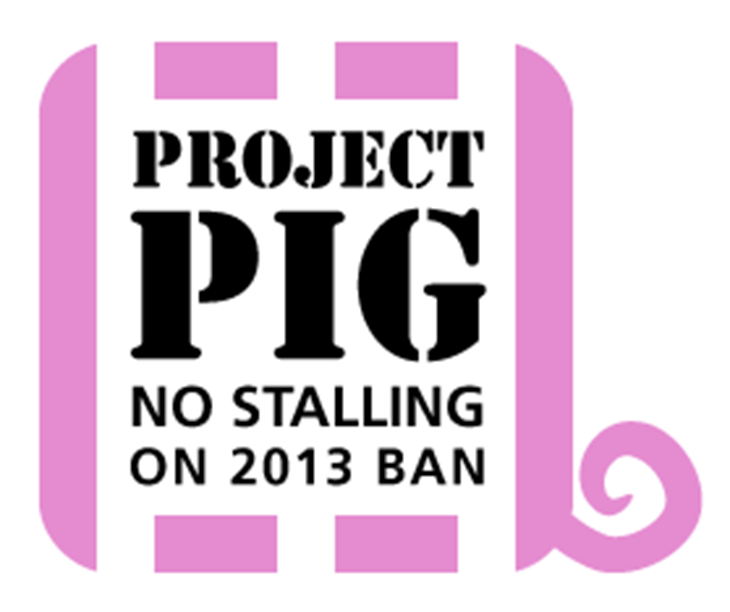 Project Pig is Compassion's campaign to build on the legislative advances made within the EU, with specific regard to enforcing the Pigs Directive across Europe. Our initial emphasis was on the 2013 Sow Stall Ban, and Project Pig lobbied DEFRA, the European Commission, the European Parliament and EU Agriculture Ministers to stop some of the routine abuses of pig welfare and seek to ensure that all nations were fully compliant with the Sow Stall ban when it came into force on 1st Jan 2013. A number of countries continue to be non-compliant on this ban.
Enforcing European pig welfare law
We also monitor and make formal complaints to the European Commission regarding breaches of the Pigs Directive by EU countries which can result in these countries being taken to the European Court. In February 2013 the European Commission began infraction proceedings against 9 EU Member States for failing to be compliant with the ban. By January 2014 this number had fallen to 6 non-compliant Member States.
Between March 2013 and March 2014, 475,576 people signed our petition calling on every EU Agriculture Minister to ensure that their country complies fully with the EU Pigs Directive.
Over the coming years we will continue to press for 100% compliance with the sow stall ban whilst also seeking to ensure a reduction in routine tail docking of pigs produced in the EU, enforcement of the requirement regarding the provision of enrichment materials, and for the Commission to agree to full transparency on compliance levels with the Pigs Directive.
Timeline
Croatia joins the EU
Croatia's level of Compliance with the Sow Stall ban is unknown (but presumed to not be fully compliant).
Nine nations not compliant with sow stall ban
European Commission begins infraction proceedings against nine nations not compliant with sow stall ban
EU sow stall ban takes effect
Use of sow stalls following the first four weeks of pregnancy banned in all 27 EU Member States
EU Lisbon Treaty
Animals continue to be recognised as sentient beings in EU Lisbon Treaty
Report shows routine tail docking continues
EFSA Report states that over 90% of pigs in the EU are tail-docked despite the practice of docking tails routinely having been illegal since 2003
Routine tail docking banned in the EU
EU sow stall ban
EU follows the example set by the UK (and Sweden and Luxembourg) and agrees a ban on sow stalls
UK sow stall ban
UK bans sow stalls after campaign by Compassion in World Farming
Animals recognised as sentient beings in EU law