08/07/2015
"I feel a bit embarrassed showing you this" he said, peeling back the door. "It's very much work in progress." I wasn't quite sure what to expect. I'm used to peering behind closed doors and being shocked. But this was different. Like stepping into one of the biomes of the Eden Project. Grasses and clover up to my knees, sunlight streaming in. Little white chicks running, scratching, darting in and out of clumps of grass, with bright eyes and enviable enthusiasm. They'll stay chasing around the spacious polytunnel until big enough to go out.
"They love trees" said Peter Brown, and he should know. He runs  in East Sussex, a stone's throw away from Ashdown Forest, where he rears 400 chickens a fortnight for the table. "They're just organic" he tells me apologetically. His chickens are fed organic feed which he buys in. Nevertheless, it was the standout moment of the visit. I've never seen chickens reared on such rich pasture, including in the house!
The rest of his farm is biodynamic, a kind of organic plus, where the needs of the farm are pretty much met by the farm. Brown is very much a man with a passion for agriculture. He came to Tablehurst two decades ago with his late wife and three children. He's since made his mark; the brimming farm shop invites customers to a 'Midsummer celebration' of Brown's time here.
Formerly from Edinburgh, he worked in South Africa before moving to Germany. After decades abroad, what drew him back to this part of the world? "Well, it was the community spirit here at Tablehurst", he explained. In the mid-1990s, the farm was losing money and turned to Brown for help. He was open to persuasion if they agreed to give the farm to the community – and that's what they did. Now a community venture, people buy a share for just a £100. The farm's fortunes were turned around through crowd-funding, well before the days of mass internet campaigns like 'Kick-starter'.
Tablehurst is now a thriving business. Farming over 500 acres, they rear cattle, sheep, pigs, turkeys, and of course the grass-biome chickens. The entire farm is chemical-free and, with the exception of the chickens, biodynamically: by meeting the needs of the farm – feedstuffs and the like – from the farm itself.
Biodynamic farmers see care for the soil and the growing of plants and animals as ecologically interdependent tasks. Working with nature, rather than against. At Tablehurst, stock rotation, composting and low-tillage methods are used to build soil fertility – the foundation of modern civilisation. Feed comes from the farm's own fields and the manure used as fertiliser. It's a kind of self-sufficiency that Brown sees as the future; "So many people are coming on the bandwagon and realising this has to happen."
Very different from the intensive model where feedstuffs can be grown a continent away, where the muck is often carted half way across the country. Where frequent coatings of chemicals and mineral fertilisers can be bad for the soil and produce poorer quality food, the soils just being used as a substrate for the chemicals. Wearing a colourful check shirt and stylish white hair, Brown speaks enthusiastically about how everything on a farm should link together; the soil, the plants and the farm animals. "It shouldn't be like a factory… we shouldn't be putting in factory-like methods, be it animals or plants."
After the earthworm, the most important helper on the biodynamic farm is the cow. Cows have accompanied human beings for several thousand years, sharing our harvests and our famines. They could well be seen as the co-creator of the European landscape.
Something you rarely see these days is cows with big horns. Brown's biodynamic cows have enormous ones. Brown is convinced it makes a difference. "Cows without horns are much duller in their personality. It's hard to put your finger on it but there is a difference." But why do so many cut them off anyway? "With horns, you have to give them more space in a barn" he explains.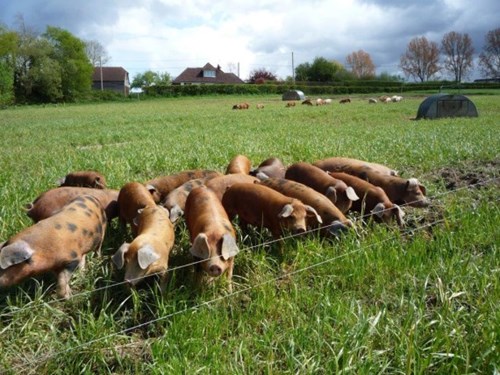 And sure enough, Brown's cows aren't in a barn for most of the year, they're frolicking on pasture. To get to them feels like a nature ramble. We go past a thatch-beehive dangling from a covered garden chair, through a wildflower meadow, across a footbridge over the river Medway. His herd of Sussex cattle look sleek leathery brown and full of life. They've got plenty of energy, and calves at foot. The flies around here get short shrift from their long tasselled tails. Peter gets up close and personal with one of the cows with particularly big horns. He points to the rings at the base of the horns, resembling the rings of a tree trunk. Each time she gives birth, she'll get another ring, I'm told. As we walk back along the field, the herd troops with us in an untidy line. They are entirely pasture-fed, no grain supplement at all. They don't need it, Brown tells me.
We stare across a field of buttercups dotted with pigs. They're lying by the drinking trough, rooting or lying in a damp hollow. "When I was a teenager, I worked on a big pig farm" Brown told me. "We would be cutting the tails off and the teeth out; very intensive. But it takes a while to realise there is an alternative." Brown has since devoted himself to just such an alternative.
The Tablehurst pigs are fed on whey, a by-product from the local organic cheese producer. Brown wants to grow fodder beet and turnips under the pigs' pasture to reduce the amount of feed they'll need.
Tablehurst turns over a million pounds a year and the profit is reinvested into the farm employing 20 staff. Their intensive arable neighbour of about the same size employs just one.
Biodynamic farming could well be the new frontier, the next level on from organic. The 'Demeter' label, certifying biodynamic produce, is well known in Germany where half the world's biodynamic produce is grown, and in South Africa. Although as yet not so well known elsewhere, I have a feeling that's about to change.