05/11/2015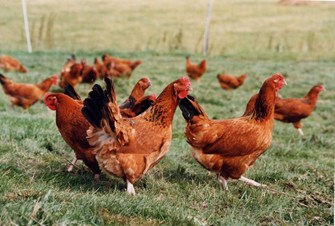 It's with huge delight that I am able to announce that within five years, Panera Bread - a leading fast food company in the USA - will no longer buy eggs from suppliers keeping hens in cages. I commend their transparency and this announcement that includes a timeline in which to phase out battery cages.
By 2020, Panera's new policy will improve the lives of hundreds of thousands of hens every year. This is a huge turnaround, given that last year, Panera announced that only 18% of the eggs the company served - including shell eggs, hard boiled and liquid egg whites - came from laying hens raised in cage free environments.
My team in the US, led by Leah Garcés, has been working alongside Panera since 2013. I offer heartfelt congratulations, both to the team, and indeed to Panera. Compassion USA has put farm animal welfare on the map across the pond, and Panera has put animal welfare at the heart of their business.
Compassion's US Director, Leah, said today: "No business with integrity, or a future, is going to let cages stay in their supply chain. This announcement from Panera, shows their willingness to disclose exactly where they are at and where they are going in terms of animal welfare."
In the statement published today, Panera has also stated that all of their pork is now gestation crate free, and 89% of their beef is grass fed. This is incredible news and something to be immensely proud of.
With the recent commitment from McDonald's on going cage free; Panera joins other leaders such as Starbucks, Compass and Sodexo, addressing the issue of animal welfare in their ingredients. Onwards and upwards for both Compassion USA and indeed for the USA's farm animals. I look forward to seeing the ripple effect continue, and for other major national and indeed international companies, to follow suit.