16/12/2015
Here is part 2 of my interview with Neil Darwent. 
Neil recently launched Free Range Dairy and the 'Pasture Promise' label to offer an alternative vision, one where cows are guaranteed the freedom to graze for much of the year. I wanted to find out how things were going at a time when some in the farming industry are pushing for mega dairies.
Philip: How are such powerful interests as food manufacturers and the National Farmers' Union as well as the Department for Environment, Food and Rural Affairs reacting to the Free Range Dairy Pasture Promise?
Neil: Right now farmers find themselves in a ridiculous position where, even when there is a global over supply of milk, they see little alternative other than to increase production, to stay in business. But, it has been difficult for us to win support for an alternative vision from the National Farmers' Union or DEFRA, largely due to a fear of being accused of promoting one farming system over another.
Instead there have been calls from industry leaders for farmers to embrace the brave new world of global dairy markets, explore the potential riches for dairy exports and ramp up production to feed 9 billion people. Now we are seeing the fallout from 'sustainable intensification' with milk price volatility driving farmers out of business every day.
It's not difficult to see why many who run small farming businesses feel that nobody represents them. Industry-led attempts to promote milk are diluted by an overriding need to ensure those who have invested in intensive farming are not left out. This means that time and energy is focused on trying to persuade people that industrial dairy is good for them, rather than providing them with what they really want – high quality milk from cows in fields.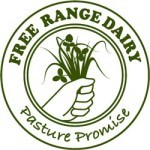 There is an urgent need for farmers who want to win value in their farming to unite under one banner and I hope that the Pasture Promise label can be that banner. But we need people to stand alongside our farmers and say we make the Pasture Promise.
Philip: And what do you see as the way forward in terms of protecting grass based dairying in this country?
Neil: I believe the best way to protect grass based dairying in the long term is to promote a clear understanding for the value that it delivers for our nation.
I am not in favour of protection in the form of price fixing or government intervention and I don't believe it is necessary. We have neglected the marketing of milk for too long and yet it is clear to see from the bottled water industry that simple essentials such as water or milk can return real value to the producer.
Bottled water is not worth more than milk but it fetches a higher price because there is discernible value to it. Milk from pasture-based dairy farms need to convey simple messages about its source – the cows that produce it, the surroundings in which the farm sits and the distinct nutritional qualities of milk from grass.
Whilst we are fortunate to have a climate in the UK that enables us to grow an abundance of grass, it is still a largely under-utilised resource on many dairy farms in the UK. That's why Free Range Dairy is working with academics and commercial organisations to put together soil, pasture and water workshops for farmers that will encourage more responsible approach to sustainable farming and make better use of natural resources at their disposal.
By taking a 'two pronged' approach to complement the added value for milk from pasture-based herds with improved efficiency on farms, we can make sure that traditional dairy farms not only survive but flourish and grow.
Philip: Where can we buy free range milk and what's been the consumer reaction?
Neil: Despite the wonderful reception we have had from people to the free range milk concept, getting the milk to market is still challenging. However, we are beginning to make a breakthrough thanks to collaboration with some incredible 'can do' people, who have a different attitude towards food and farming. This has been achieved by sitting down with farmers, milk processors and wholesalers and understanding what each requires in order to make free range milk a viable proposition.
I am pleased to report that we are now finding some enterprising, small dairies with farmers that graze their cows for six months each year and they are willing to segregate this milk. There are also some pioneering wholesalers who are prepared to go to the market and explain why we want to return a price premium to farmers who adhere to our Free Range Dairy standards.
Thanks to the support of organisations like Compassion in World Farming, recognition for the Pasture Promise label is growing and more people are asking for an assurance that the milk they buy come from cows in fields.
You can find out more about the people we are working with and outlets for free range milk via the website www.freerangedairy.org
You can also make the Pasture Promise and help us to show milk buyers and retailers that the British public want to make a more informed choice about the milk they buy. We believe change is possible and, with the support of people who care about cows and the countryside, we can make a difference.
Philip: Thank you!