05/04/2016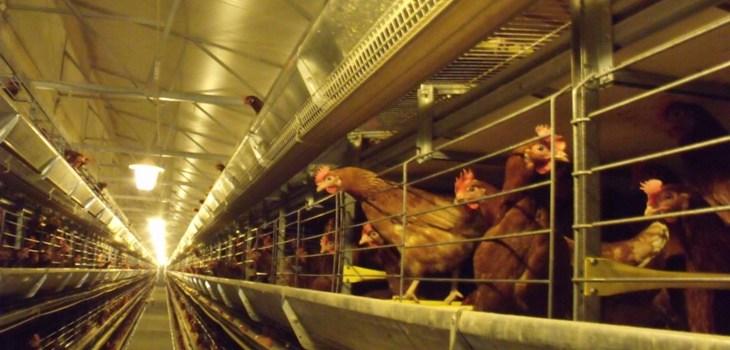 EU falls behind on cage-free egg commitments
Today marks a historic peak in the cage-free egg movement sweeping the US.
Walmart, the nation's largest food retailer, announced it will source 100% of the eggs it sells from cage-free hens by 2025. This specific target is an extension of their May 2015 animal welfare position paper, which communicated their intention to work with suppliers to address farm animal welfare concerns like confinement and painful procedures.
Our team at Compassion USA, along with our friends and colleagues at HSUS, have worked closely with Walmart throughout this process.
Last September, McDonald's USA committed to 100% cage-free eggs by 2025 after a Compassion report denounced a flawed study on laying hen welfare in caged housing systems. Soon after, countless restaurant chains like Taco Bell, Panera and Wendy's made similar cage-free egg pledges. This year, some of the US's largest supermarkets including Kroger, Trader Joe's and Delhaize (owner of Hannaford and Food Lion) are joining in the cage-free movement. In fact, more than 60 of the leading companies in the US have committed to going cage-free within the next ten years or less.
We can reasonably expect that within ten years, very few eggs sold in the US will come from a caged hen. Food companies in the US have heard consumers loud and clear: animals deserve better than life in a cage.
This groundswell of corporate commitments to phase out cages for laying hens is one of the few areas where the UK is falling behind the US in terms of animal welfare.
When Compassion in World Farming set out to ban barren battery cages for egg laying hens in the EU, it was a challenging goal. We faced opposition from the egg industry, and back and forth with lawmakers. While the resulting legislation banned barren cages by 2012, it had one major flaw. Rather than rid the EU of caged hens, the law allowed conventional cages to be replaced with so-called "enriched" cages. Enriched cages still restrict birds from expressing natural behaviours - they can barely even stretch their wings.
The US is taking a different approach. More and more US food businesses are publicly committing to phase out cages of any kind for laying hens, in response to the work of Compassion and other animal welfare groups. This strategy bypasses the enriched cage dilemma and goes straight to higher welfare cage-free housing systems.
If the world's largest retailer, Walmart, can rid its supply chain of eggs from caged hens, there is simply no excuse for companies in any country to not follow suit. 
Asda, the second largest supermarket in Britain, is owned by Walmart and has yet to commit to phasing out cages for hens. It's bewildering that a subsidiary of an American company with a cage-free egg commitment, based in a country known for its leadership on farm animal welfare policies, has yet to make its own cage-free pledge. 
Walmart's announcement proves companies can do better for hens not just in the USA, but across the world.
I urge Asda, and all other retailers in the UK and Europe still selling cage eggs to come out of the cage age and commit to going cage-free.
Please support our ongoing work to put animal welfare at the heart of the food industry.