03/11/2016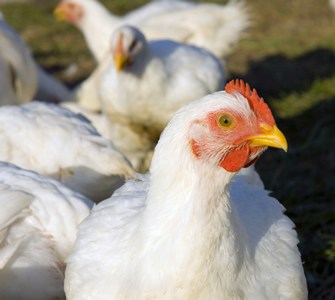 Many actions are needed to bring about a revolution. When it comes to an animal welfare revolution, few steps take us further than when a major food company decides to make sweeping changes. That is why I am particularly pleased to announce that the world's largest contract food service company, Compass, has decided that all its chickens in the US must come from higher-welfare farms.
Through a unique partnership with the US animal welfare certification programme, the Global Animal Partnership (GAP), Compass has agreed to changes that will mean a massive 60 million broiler chickens a year will be better off.
With this announcement, Compass becomes the first food service company to commit to healthier, slower-growing strains of chickens, improved living conditions and more humane slaughter. All of its chickens will benefit from these better standards by 2024. 
In the United States, 95% of all factory farmed animals are chickens raised for meat, known as broilers. Currently the majority of these are broilers are from strains that grow so large and so fast they can have difficulty walking, and suffer from heart attacks and other significant health issues.
This agreement not only sets out to phase out unhealthy strains of birds, but also commits to improving their living conditions by giving them minimum space, enrichment and natural light – all of which encourage natural behaviours and better health. The agreement also means a transformation in the way in which chickens are slaughtered, requiring they be rendered insensible before they are shackled upside down at slaughter.
The agreement is supported by Compassion in World Farming and the Humane Society of the United States, both of which are on the board of GAP and work in partnership with Compass Group.
When I first heard about the move from Leah Garces, the director of our US office, she was bursting with excitement! Leah and her team have worked particularly closely with both companies to help make this day happen.
"When Compass, the largest food service company in the world, says enough is enough, chickens need a better life, we know we are at a tipping point. An avalanche is coming towards the chicken industry which they cannot afford to ignore," Leah told me.
I couldn't agree more.
As I write this post, I hear more exciting news from our US team. Aramark, another major US food service company, has also released a comprehensive broiler welfare policy.
Huge congratulations to both Compass and Aramark for taking this step. They are leading the way toward a more compassionate future. 
Our Team Compassion will continue to work night and day to ensure many more companies follow in their footsteps.
Thank you for all your support in making this happen.