21/12/2016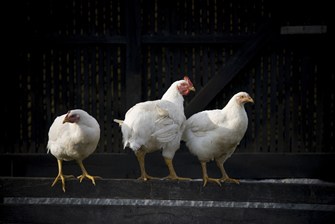 I am absolutely delighted that Panera - one of the largest restaurant chains in America - has just released a policy that will significantly raise the welfare standards of broiler chickens by 2024. This positive action will dramatically improve the lives of over 17 million chickens per year, raised for meat.
Higher welfare commitments
Panera has committed to healthier, slower-growing strains of chickens, improved living conditions and ensuring all animals are stunned before slaughter.
These changes are a big improvement on conventional chicken industry standards which allow birds to be selectively bred for fast growth. Birds that grow so quickly are often unable to support their own weight, suffering from leg deformities and weakened immune systems. They are kept in overcrowded houses with no access to natural light, and denied enrichment, such as perches, that encourage natural behaviours.
An era of change
This news comes at the end of a momentous year for broiler chickens, with recent corporate commitments bringing an era of change to the US industry. In committing to higher welfare chicken, Panera joins food service giants Compass Group, Aramark, Delaware North, and Centerplate - all of which have made similar policy changes in the past few months.
I'm proud of the Compassion team in the US for working with these companies, encouraging these monumental changes for farm animals. The welfare of broiler chickens has for so long been overlooked but change is finally on the horizon.