24/04/2017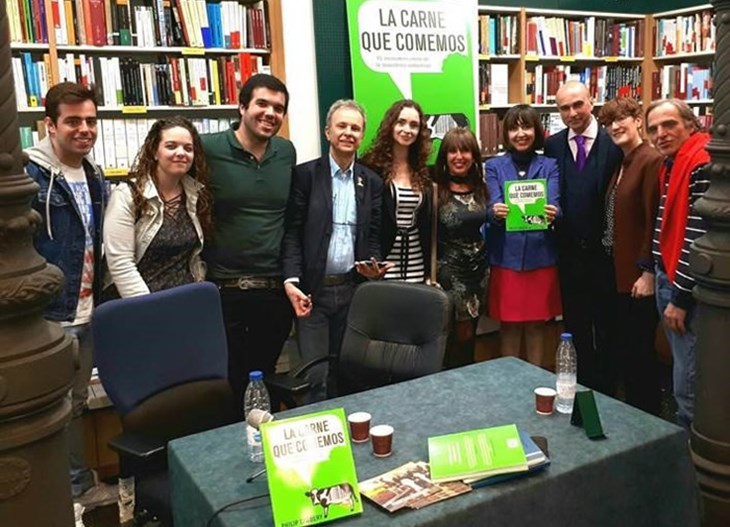 I have just returned from a whirlwind two days in Spain which have left me reeling from the positive response to our message.
Our book, Farmageddon in Pictures, has been released in Spanish under the name La Carne que Comemos ('the meat that we eat').
We started off in Madrid, with 13 media interviews in one day, topped off with a lecture in a packed-out bookstore, Casa del Libro, where I presented the findings of the book.
Then, it was on to Barcelona for more meetings and a presentation at Libreria Documenta hosted by Núria Almiron, author and co-director of Upf-centre for animal ethics, and Daniela Romero Waldhorn, investigator and animal protection activist.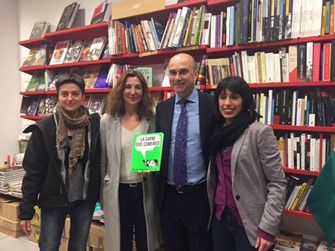 I was honoured to meet some of the leaders of the animal protection movement in Spain such as journalist Ruth Toledano and José Enrique Zaldívar, the President of the 450 Vet strong Association of Vets against Bullfighting and Animal Cruelty.
It was also inspiring to meet the people on the frontline, fighting proposals for a mega-dairy and a mega-piggery in the country, to hear of their commitment in stopping the proposals and to learn more about how we can help them succeed.
The Spanish media have proven extremely receptive to our cause, with the book making the rounds in national and regional publications, and an interview in Agrosfera, Spain's equivalent to Countryfile.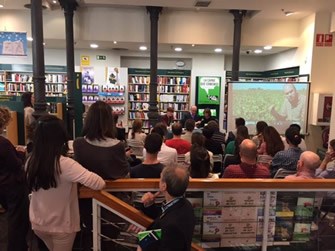 Sincere thanks to Annamaria, Director of CIWF Italy and Patricia De Rada, our honorary representative in Spain, for the time and hard work they put in to making the tour such a resounding success. Particular gratitude to the Alianza Editorial publishing team, helped by the agency Ingenio de Comunicación.
I am absolutely thrilled by the reaction to the book in Spain, and by the sense of awakening and desire for change in the local communities there. One thing is for sure, Spain is standing up against factory farming. With our new and expanding presence in the country, we'll be continuing the fight alongside them.