09/05/2017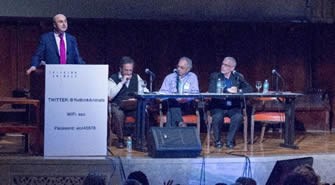 Last Saturday I was honoured to be invited to speak at the Rethinking Animals Summit in New York.
The summit is a gathering of minds from a wide range of sectors including science, health, business, conservation, animal welfare, and ethics, all with one shared goal: to reduce animal suffering and exploitation worldwide.
I had the pleasure of speaking alongside renowned author Carl Safina, marine biologist and scientist David E. Guggenheim, and environmental journalist Andrew Revkin.
Our session focussed on the long-term costs of short-term thinking, a fitting context in which to discuss factory farming. Each session was listed on the programme according to the UN Sustainable Development Goals (SDGs) relevant to the topics at play.
The urgency for ending factory farming has never been greater. It is the biggest source of animal cruelty on the planet, the biggest driver of extinction and species loss, and accounts for almost 15% of all greenhouse gas emissions - that's more than all the cars, trains, planes and ships on the planet combined.
Intensive farming lies at the heart of many of the issues that the SDGs aim to solve: hunger, food security, climate change, sustainable consumption, and conservation of marine resources and ecosystems.
Thanks to productive dialogues at events like this, it is becoming increasingly clear that we need to tackle these issues with a holistic approach. Unless we turn our back on intensive farming we will be unable to feed the world or save the planet from irreparable damage. As many species hurtle towards extinction, now more than ever before we need a global consensus for action.
It was truly a privilege to be speaking up for animals amongst such respected international advocates at the summit. Next up on my speaking tour are the Bristol Festival of Ideas on 23rd May and the Bath Festival on 26th May. I do hope I can catch you there.