15/08/2017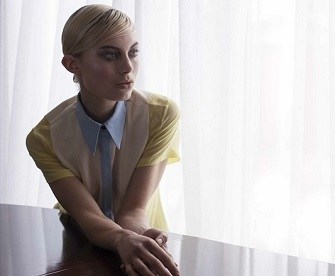 Abi Aspen Glencross is co-founder of Future Farm Lab whose mission is to put farmers back at the core of our food chain, and until recently was a New Harvest PhD cellular agriculture researcher in the Tissue Engineering and Biophotonics department at King's College London, where she predominantly focused on creating thick bovine muscle tissue to produce 'steak'.
Philip: Please tell me more about Future Farm Lab. What do you do?
Abi: Future Farm Lab is a collective rebuilding the food system by putting farmers back at the centre of it - connecting them with retailers, consumers and technology.
We conduct laboratory research, run workshops experimenting with and educating on food; support and collaborate with conscious, inquisitive and agroecological groups within the food chain; and create thought provoking and engaging exhibitions to regain transparency and trust in our food system. 
Our work is all about stimulating discussion, encouraging questions and investigating solutions, we involve as many people as possible in our process as we believe this is the key to building a sustainable food chain.

Our last project was an exhibition at Somerset House discussing current and future sustainable food choices, and our current project is all about building Community Supporter Agriculture for cereals, starting with a co-op field just north of London.
Philip: You were conducting PhD research into cellular agriculture. What did that involve and who were your supervisors? How did you see your research fitting into the future of food?
Abi: Cellular agriculture is the creation of animal products from cell cultures, rather than directly from animals. I work predominantly on cultured meat - beef, steak is my specialty.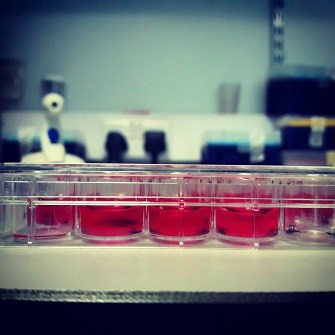 New Harvest supported me and my supervisors were Lucy Di-Silvio, head of the tissue engineering and biophotonics department at King's College London; and Mark Post, Professor of Vascular Physiology Chair of Physiology at Maastricht University. Professor Post and his team made and tasted the first ever cultured meat burger on television in 2013. I quickly realised burgers don't drive the meat industry. Whole cuts of meat do, which is why I worked on steak.
Philip: What was your drive for pursuing cellular agriculture PhD research and co-founding future farm lab?
Abi: I grew up in the Cornish countryside. I always assumed the animals in the fields were the animals that ended up on my plate or packaged in the supermarket. Then I learned some really hard truths: for the majority of the animals we farm, life isn't like this. I also discovered that there are some amazing people and organisations whose aim it is to steer us away from buying into this type of farming and change legislation around it.
At university, without even realising it, I dedicated my life to designing a better system to leave industrial farming redundant. We need a multi-faceted approach by de-incentivising current animal farming with cellular agriculture, and rebuilding a better food chain with Future Farm Lab.
Philip: Finally, are you optimistic or pessimistic about the future in our ability to feed the world's growing human population?
Abi: I have no doubt we can feed the world. We currently produce enough food to feed 14 billion. But we waste a lot of it (global estimations vary between 30-50%) and it isn't distributed well either.
A recent study[1] looked at 500 scenarios of varying food consumption and production. The results indicated that not only can we feed the population but we can do it with organic practices. For this to be viable, Western meat consumption cannot set the precedent for developing countries. We need to also stop producing poor quality grain and feeding it to animals. Instead, we should produce diverse grains and plants and feed them to people.
I am optimistic because I work with and have met some of the most incredible people dedicating their lives to making our food system better.
Philip: Thank you!
Click here to learn more about Future Farm Lab and follow them on Twitter as @FutureFarmLab. You can also follow Abi Aspen as @AbiAspen, Phoebe as @phoebetickell and Sophie @sophieannperry.

[1]Heinz Erb et al., 2016. Exploring the biophysical option space for feeding the world without deforestation. Nature Communications.
https://www.natureindex.com/article/10.1038/ncomms11382