22/08/2017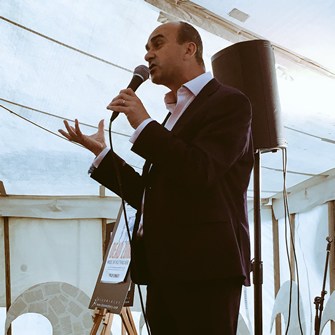 I'm delighted to share my latest podcast from the pioneering Wilderness Festival of music, food, science and the arts held earlier this month in Oxfordshire. I was invited to talk about how humanity's obsession with cheap meat is driving countless species to extinction, and was so pleased to have the chance to meet Helen Pilcher, science commentator and author of Bring Back the King: The New Science of De-extinction.
As a stem cell biologist and former stand-up comedian, Helen's book explains the cutting edge science that makes it possible to resurrect extinct species, while acknowledging both the serious and humorous aspects of giving a deceased animal a second chance to live.
We were in Bloomsbury Sigma's book tent along with other authors and science commentators to explore the science of survival. The podcast reveals Helen's thoughts on how bringing back carefully chosen species with particular roles in ecosystems isn't just about resurrecting the dead but about helping the living. The woolly mammoth, Helen explains as an example, could restore landscapes to life with their huge amounts of dung. This reminded me of the plight of the bison, a story outlined in my latest book Dead Zone: Where the Wild Things Were.
A century and a half ago, some 30–50 million bison roamed the Great Plains, together with countless elk, deer and other grazing animals. The bison alone weighed, in total, about the same as North America's entire human population today. Constantly on the move, they returned nutrients to the soil through their droppings. This enormous biomass of grazing animals was sustained by nothing more than sunlight, rain and grass. Today, the bison are down to but a few thousand; replaced first by cattle, then a sea of industrial corn, much of it for animal feed.
Helen and I agreed that the most important and purposeful action we can take is to save the species we've got now. She speaks about how my book opened her eyes to the ripple effects on wildlife from the food that she puts into her shopping basket for her children. I really hope you enjoy this episode!
It was wonderful to meet so many people who were switched on to the impacts of meat and dairy on animal welfare, wildlife, the environment and our health. I'm looking forward to exploring these issues further, in October this year, at the first ever conference by Compassion in World Farming and WWF. The conference will be on the connections between extinction of wildlife and livestock production. If you are interested in learning more about how we can transform our global food and farming systems to work for people, the planet and animals, then do join us.
Next month's podcast will come from the European Parliament in Brussels, where I'll be attending our STOPTHEMACHINE roundtable discussion and exhibition hosted by MEP Anja Hazakamp of the Dutch Party for Animals.