25/09/2017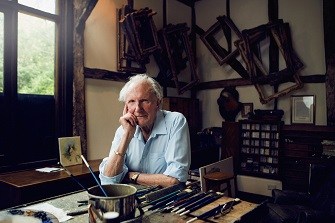 David Shepherd, who died last week aged 86, was one of the most successful painters of African wildlife of our time. A success based on his real love for animals. In 1984 he founded the David Shepherd Wildlife Foundation, and over the years used his paintings and celebrity status to raise millions for wildlife protection projects.
David was also a supporter of our work at Compassion in World Farming and donated several paintings to be auctioned at our events, helping to raise thousands of pounds for farm animal welfare. I well remember him auctioning one of his own paintings at a Compassion dinner and his enthusiasm and energy generated some very generous bids! He also endorsed our Vision for Fair Food and Farming.
His success as an artist and conservationist also demonstrated his personal drive and determination. He had been turned down as a game park warden and rejected by the Slade School of Art in his youth. He managed to turn rejection into success with his fantastic paintings and dedication to protecting wildlife.
I, and all at Compassion, will fondly remember him with admiration and gratitude. We know his wonderful work for wildlife will continue through his Foundation.