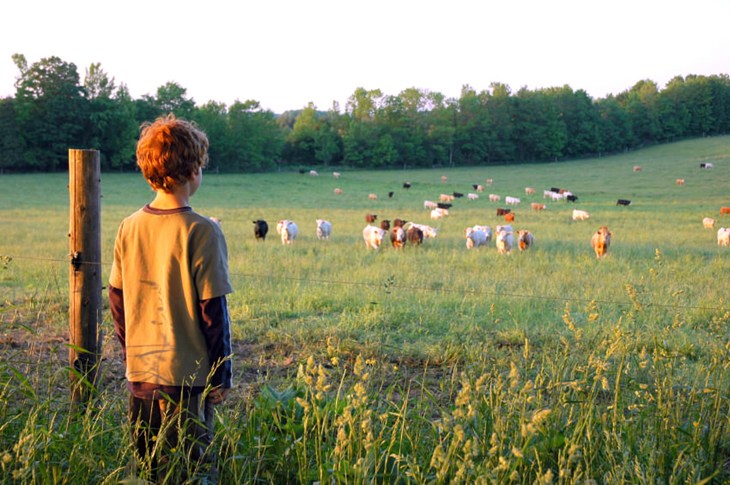 Better for people, animals and the planet
Currently, one third of the world's cereal crop goes to feed the 70 billion farm animals reared every year to produce meat, eggs and dairy products – the majority of them on factory farms.
With increasing strain on the world's natural resources and millions of people unable to feed themselves, we think it's unsustainable and morally questionable to continue rearing so many farm animals in such intensive systems and feeding them crops which could be used for human needs.
Not only that, factory farming produces large amounts of waste (often polluting local water sources) and increases the risk of spreading animal disease.
Eat higher welfare
Higher welfare animal products cause less animal suffering. Buying them will encourage investment in higher welfare farming which is smaller scale and poses fewer risks to animals, people and the planet.
Eat less
Eating less meat, dairy and eggs reduces the environmental impact of animal farming and improves human health.
Most people in the west eat more protein than they need. The saturated fat in many meat and dairy products can be harmful to good health and may contribute to obesity, type-2 diabetes and heart disease. Global cancer experts say red meat can be a factor in certain cancers and that processed meats should be avoided.
Farm animal production is responsible for at least 14% of the greenhouse gases we produce. Another good reason for eating less.
Meat and dairy production also use huge amounts of cereals and soya grown for animal feed and, that most precious and increasingly scarce global resource, water. As Dr Pachauri, Chair of the Intergovernmental Panel on Climate Change has said, "Please eat less meat. Meat is a very carbon-intensive commodity."
Eating less and eating only higher welfare products is a positive step which Compassion encourages you to make.
Compassion is a founder member and on the Management Committee of an alliance called "Eating Better for a Fair, Green, Healthy Future", which calls on people and governments to promote reduced meat consumption and eating only higher welfare meat, i.e. less and better meat.
You can read their recent report "Let's Talk About Meat", and their policy recommendations for promoting healthy sustainable diets.
Going vegetarian or vegan
Cutting out meat or all animal products is obviously a fantastic way to reduce animal suffering and the impact animal production has on the environment. However, if you choose to be a veggie remember to look for higher welfare dairy and egg products.
If you have taken the vegetarian or vegan route, or are looking for alternative ideas to help reduce your meat consumption, you can enjoy a whole new raft of foods and recipes... visit www.bbc.co.uk/food/recipes/ to expand your repertoire.