Contact us
Compassion in World Farming is a registered charity in England and Wales (registered charity number 1095050) and a company limited by guarantee in England and Wales (registered company number 4590804).
Thank you for wishing to get in touch with us - we are always delighted to hear from supporters. 
We do aim to keep our administration costs to a minimum so that we can spend more time and money on campaigning for animal welfare. Last year we handled over 28,000 calls, emails and letters, so before you contact us please do take a look at our FAQs below and at our Research section to see if your query can be answered before contacting us.   This will enable us to stretch our limited resources to help even more farm animals.   
Thanks so much for your understanding.
Frequently asked questions
Popular topics
The food you choose has a direct effect on how farm animals live.
What we are currently working on.
How does factory farming affect animals?
Our work to raise animal welfare standards within the food industry.
Our policy and campaign for more humane slaughter.
Join the campaign to end factory farming.
If your query is not answered by the information above you can get in touch with us using the email form below. We aim to respond to all queries as promptly as possible but due to the high volumes we receive this isn't always possible so please bear with us.
We could not do it without you!
Email us
---
---
Share this page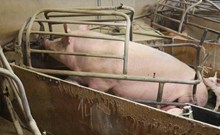 Donate today
You can get in touch by...
Phone
You can call our supporter line on
+ 44 (0)1483 521 953
Lines are staffed
9:00am - 5:00pm
Monday to Friday
Please note that the supporter line is for supporters and the general public to find out more about our work.  We do NOT accept sales calls.
For other enquiries, please contact the main switchboard on + 44 (0)1483 521 950. Please note, as a charity, we are unable to accept unsolicited sales calls.
Email
Post
Compassion in World Farming,
River Court,
Mill Lane,
Godalming,
Surrey,
GU7 1EZ,
United Kingdom
How to find us