Published 17/05/2012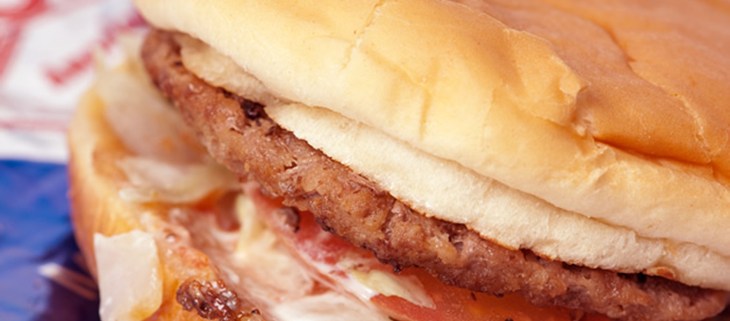 The world's first "lab-built" burger is due to be unveiled in the autumn, but will society swallow this sci-fi food?
Meat 2.0?
"In vitro meat", "cultured meat", "test-tube meat" – you may well have seen these phrases in the media in recent months. They all refer to the idea of synthetic meat, or meat that's been produced in a lab rather than on a farm. It may sound slightly far-fetched, but Dutch scientist Dr Mark Post, along with a handful of other academics, is working hard to prove that it's very much a reality. The theory is relatively simple; take some stem cells1 (muscle cells, for example) and use various technologies to encourage them to multiply and mature to form actual pieces of synthetic meat.
A positive alternative to factory farming?
On paper, it may sound like a great idea: lab-grown meat won't do away with the need to raise animals – they will still be needed to provide the stem cells – but the number of animals needed would be far fewer (according to The Economist2, one cow could theoretically produce the same amount of beef as up to a million animals slaughtered today). So, if synthetic meat could be produced from different species, it could potentially make factory farming obsolete:
Billions of animals could be freed from suffering;
We could feed more people with grain, rather than giving it to farm animals for feed;
And we could slice global greenhouse-gas emissions – a recent Oxford University study3 claimed that synthetic meat would generate up to 96% lower emissions than farmed meat.
Animal-rights organisation PETA rates the idea so highly that they're offering a US$1m reward to whoever can produce the first lab-grown chicken meat4 (although you need to be quick – the offer ends in June!).
Teething problems with synthetic meat?
But doubts still remain about the technology. Would lab-grown meat have the taste, texture and colour of your average burger or chicken breast? The jury's still out on this one. And what about the price? It's widely rumoured that Dr Post's burger will cost in the region of €250,000 to produce – slightly higher than the "99¢ burger" that many people are accustomed to around the world!
Finally, there's the public to convince. Initial responses haven't exactly been overwhelmingly positive, with some media outlets dubbing Dr Post's future creation the "frankenburger"5. If the backlash against genetically modified foods is anything to go by, people may simply be fearful of any risks and unwilling to let scientists "play" with nature. In a recent Guardian poll6, 32% of respondents claimed that the idea of synthetic meat was "science...taking a step too far".
Hit or miss?
We could see synthetic meat forming part of a raft of alternatives to factory farming. But it depends on various factors, such as taste and texture, cost and public acceptance. According to The Guardian7, we should see the fruits of Dr Mark Post's labours in October, when celebrity chef Heston Blumenthal will allegedly cook a synthetic burger for a mystery celebrity taster. Watch this space – as they say, the proof is in the (black) pudding!
Huge thanks to TheDapperDan for the image (cc)
Our sources