Published 30/06/2012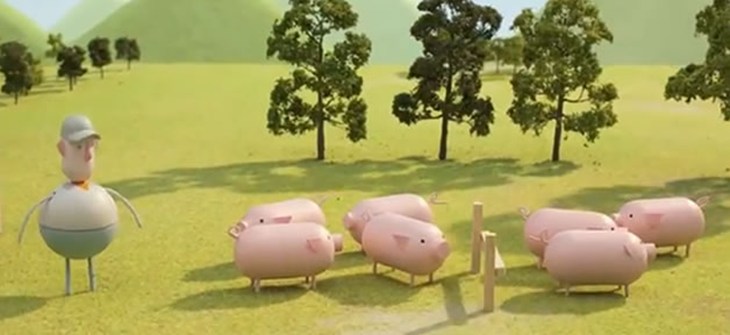 Chipotle's sustainable-farming ad recently won a top prize at the Cannes Lions International Festival of Creativity. We loved watching it again, and it inspired us to look back at some of the other videos in our "favourites" archive.
The style and subject matter of these videos may be broad, but we've chosen them because they find creative ways to bring pressing sustainability issues that arise from factory farming – such as climate change, pollution and animal cruelty – to life.
Let's begin...
"Back to the Start" – Chipotle
Commissioned by Mexican burrito chain Chipotle to emphasise the importance of developing a sustainable food system, this haunting yet simultaneously upbeat video features Coldplay's classic The Scientist as performed by country-music legend Willie Nelson.
The video has won numerous industry awards1, as well as striking a chord with viewers – it has had over 6.5 million YouTube views to date and was the "No.4 Most Buzzed-About Ad Online", according to NYTimes/Zeta.2
"Threads – We Are All Connected" – WWF
A beautiful piece of film-making: intricate rope sculptures are used to describe the connecting lines between animals, people and the planet in a poetic way. The big question, though: are the ropes real or is it computer graphics? Captivating stuff, regardless.
"The Story of Stuff"
Another hugely popular and widely shared video, "The Story of Stuff" tells the hidden story of the "stuff" in our lives. It does a great job of exposing the connections between major environmental and social issues and our ever-increasing demand to consume more stuff. Although not focused on food production, it engagingly explains many of the issues at the heart of the problems we're looking at.
It's longer than the other videos here, but well worth a watch if you haven't seen it.
Michael Pollan's "Food Rules" – animated by Marija Jacimovic and Benoit Detalle
Following in the footsteps of the wildly popular RSA Animate series, this publicly voted, competition-winning3 short film animates an excerpt from a speech by food writer Michael Pollan at the RSA.
"Face the Music" – Oxfam
Created by BAFTA-award-winning animator Ian Gouldstone, "Face the Music" uses a computer-game-inspired style to show how poor people are being hit first and worst by the effects of climate change, even though they've contributed to it the least.
"Breathe In, Breathe Out" – Greenpeace
A beautifully simple video about the need to protect our oceans.
"Dancing Cows" – Compassion in World Farming
Back in March, Compassion in World Farming visited a UK farm to film cows being released from their indoor winter housing into their fresh pasture for spring and summer grazing. The resulting video was shared on sites around the world and now has over 1 million views.
A smile-inducing way to show that cows belong in fields.
Our sources