Published 18/09/2012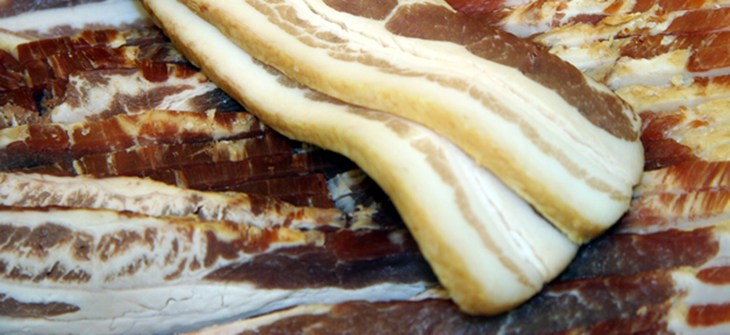 Earlier this month, the British Medical Journal published a report called "Impact of a reduced red and processed meat dietary pattern on disease risks and greenhouse gas emissions in the UK: a modelling study". The title may be complex, but the conclusion was profoundly simple; eating less red and processed meats is good for our health and good for the planet. Here's a bite-sized summary.
A meat-consumption explosion
The amount of meat that people eat has increased dramatically since the mid-20th century. According to the World Resources Institute (cited in The Guardian and using FAO data)1, the statistics suggest that meat consumption increased by just over 74% per capita between 1961 and 2001: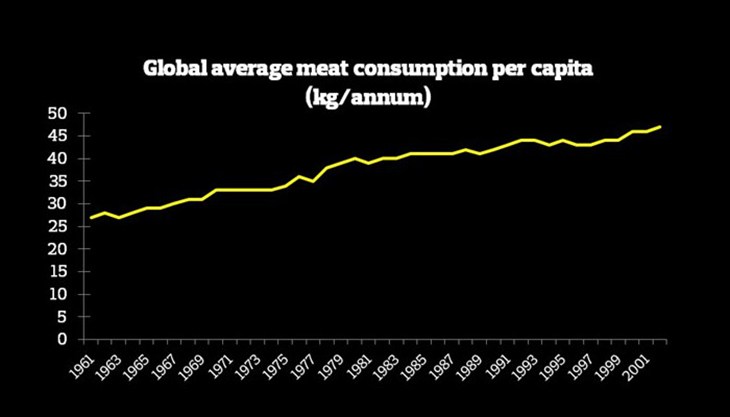 The dangers of meat overconsumption
And now scientists from the University of Cambridge have published a fascinating report2 that adds to the increasingly strong argument that the overconsumption of meat (the majority of which is factory farmed) is bad news for the planet and bad news for us.
Meat consumption and the planet
According to FAO, around 14.5% of human greenhouse-gas emissions can be attributed to the livestock sector – that's more than the global transport sector. And, as stated in the report, the greenhouse-gas emissions arising from "livestock food products are much bigger because of the overseas emissions associated with the large quantity of cereals and soy imported to feed animals raised in the UK". Find out more about climate change and factory farming.
Meat consumption and our health
The report cites recent studies that found a strong correlation between increases in coronary heart disease, type-2 diabetes and colorectal cancer and an increased intake of processed meats* (see chart below).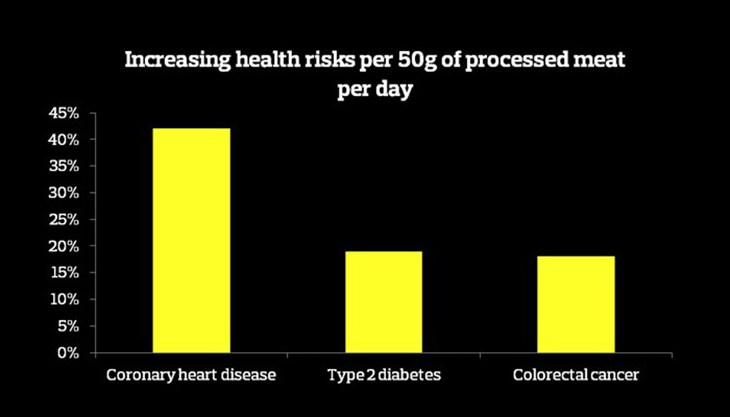 And for an 100g increase in red meat (such as beef or lamb) per day, the chance of developing colorectal cancer increases by 17%. Finally, the incidence of strokes and a wider range of cancers could also be expected to increase.
* Processed meats are meats that have been preserved by smoking, curing or salting, or by the addition of preservatives. Examples include ham, bacon, pastrami and salami, as well as hot dogs and some sausages. Hamburgers and minced meats only count as processed meat if they have been preserved with salt or chemical additives3.
Putting this into context
So what does 50g or 100g actually mean? Well, it's hard to tell, given that meat content and portion size can vary dramatically from shop to shop, meal to meal and country to country. On average, however, it's not very much – a large sausage or a couple of rashers of bacon.
What would the benefits of eating less meat look like?
The scientists imagined a UK scenario where:
the amount of vegetarians double to around 8–9% of the population;
average meat consumption reduces by 43%.
If this actually happened, incidences of coronary heart disease, diabetes and colorectal cancer would be reduced by between 3%–12%. Furthermore, the predicated reduction in food-related greenhouse-gas emissions would amount to almost 28 million tonnes of CO2 equivalent/year, or 3% of the UK's total annual emissions – a "worthwhile amount given that climate change mitigation is going to require contributions from diverse sources".
Changing behaviours
The report ends with an interesting thought – asking people to change their behaviours to reduce the impact of climate change is a tough job, requiring people to care enough about "a far-future benefit that may not directly affect those who make lifestyle changes now". "In contrast", they go on to say, "health benefits provide near-term rewards to individuals for climate-friendly changes and may thus 'nudge' humanity towards a sustainable future."
Let's hope so.
P.S. On the subject of behavioural change and meat consumption, check out our recent blog post on eat-less-meat campaigning.
Our sources
British Medical Journal (2012), Impact of a reduced red and processed meat dietary pattern on disease risks and greenhouse gas emissions in the UK: a modelling study
Huge thanks to the Jonathunder for the image (cc)