Published 04/02/2013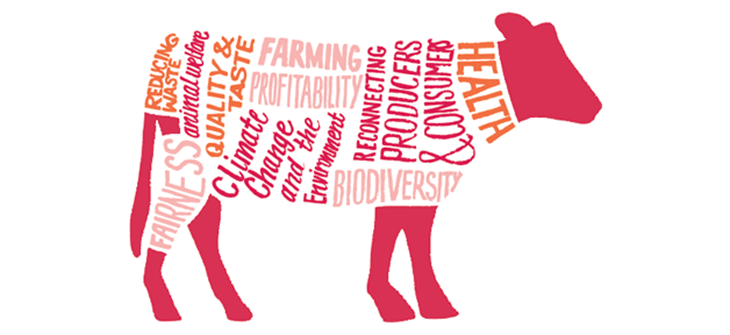 WWF has released "Prime Cuts: Valuing the Meat we Eat", an interesting new report exploring the idea of eating less but better-quality meat in a bid to improve the wellbeing of the planet and its inhabitants. Here's our summary.
What's it all about?
The report's starting point is that although the idea of cutting meat consumption is a politically contentious subject, if we want to address the multiple challenges of climate change, water scarcity, obesity, malnutrition, etc., we have to consider reducing meat consumption in developed countries as part of the solution.
The idea of encouraging people in the UK to eat less meat is a contentious issue [but] business as usual is not an option.
Why does it matter to me?
It may not come as a surprise that our diet can have a serious impact on our health. But other people, animals and the natural world can also suffer. Meat and dairy products tend to play a big part in this, requiring more inputs (feed, water, energy, etc.) than plant-based foods to be produced.
[We say: Factory-farmed meat and dairy products are the worst offenders in general. Find out more about the impacts of factory farming].
The report identifies nine different benefits of eating better meat, including:
Better meat taste and quality
Improved human health
Reduced pollution and waste
Better farm-animal welfare
More money for farmers
The most important aspect of "better" [meat] may be that in eating meat we recognise it as a valuable resource and become less inclined to waste it.
The benefits listed above mean that eating smaller amounts of higher-quality meat leads to a number of win-wins, and it doesn't even have to cost us more: "Less but better doesn't necessarily need to cost consumers more if the savings from buying less offset higher costs of better meat and meat products."
Anything else?
There are some trade-offs, too, which need to be explored. An example used is carbon: "[D]efining better meat consumption as having less greenhouse gas impact in isolation is problematic. For example, more extensive systems such as organic farming, which is typically associated with higher levels of animal welfare and environmental stewardship, rear slower growing animals that during the course of a longer life require more feed energy and produce more methane – increasing their greenhouse gas impact.'
The last word
In general, better meat can be seen to be better for animals, people and the planet. More research is now needed to understand what "better" actually means and how we might shift diets on a large scale. WWF says: "We conclude that compelling evidence exists for UK governments and the industry to acknowledge the importance of reduced meat consumption as part of healthy, sustainable diets – and to commit to explore further a 'less but better' approach."
Want to know more? Get the report summary and full report.