Published 19/03/2013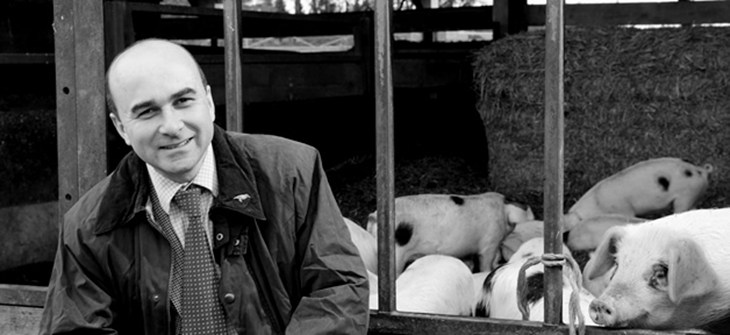 As the UK continues to deal with the horsemeat scandal, another food and farming crisis is developing, this time in China. Thousands of dead pigs have been found floating down Shanghai's largest river, the Huangpu – a major source of drinking water for the area. Compassion in World Farming CEO, Philip Lymbery, examines the crisis.
Only a week ago (March 11), The Guardian reported the number to be nearly 6,000. Talking today with Jeff Zhou, Compassion's representative in China, I learned that the official number of dead pigs found in the river had reached nearly 10,000.
With no end in sight, it's horrifying to think of how many more will be found in China's river of dead pigs.
Why are the pigs there?
Pig carcasses are supposed to be disposed of by burying. However, land is limited. It's not unusual for farmers to dump unwanted dead animals into rivers. One Chinese news source states the "dumping of dead pigs in rivers is common among Jiaxing villagers due to over expansion of the hog industry and a lack of burial sites".  

According to local officials, "the reason for the pigs' death is the cold weather but many don't believe this", Jeff told me. "If the pigs can still be sold to market, it doesn't make sense for farmers to dump them into the river for nothing".
A press report stated that "unscrupulous farmers and animal control officials sold problematic carcasses to slaughterhouses, with the pork ending up in markets". It referred to an unnamed villager saying: "Ever since the police stepped up efforts to crack down on the illicit market of sick pigs since last year, no one has come here to buy dead pigs, and the problem of pig dumping is worse than ever this year".
But dumping 10,000 plus pigs into the Huangpu River is unprecedented. Moreover, what is killing the pigs? We still don't know.
Jeff has been looking into it on our behalf; studying microblogs – new-style media sites less controlled by the government – in an attempt to unearth clues. According to some of these sources, there are suggestions that pigs may have died from being given organo-arsenic before being sold. The chemical helps to make the pigs look healthy, but severely harms their organs and some do not survive or cannot be kept for long. Amid this speculation, there is still no official explanation.
Some experts are saying the use of organo-arsenic will cause serious problems to the quality of earth and water. Twenty-three million people rely on the river for their drinking water. Shanghai authorities say water quality has not been affected.  
It is presumed the pigs are dead before they are dumped into the river; however, from studying photographs and videos online I cannot see any evidence of the pigs' bodies being damaged by knives, captive bolt or guns.
Press reports say some of the pigs have ear tags indicating they came from Jiaxing in the neighbouring province of Zhejiang. But there are no signs of an epidemic. At least one dead pig is reported to have been tested positive with the porcine circovirus, which, officials say is "widespread in pigs but doesn't affect other livestock or humans". 
Clearly, we are a long way from knowing the truth about this unfolding tragedy. We will continue to be vigilant and will bring our influence to bear wherever we can to protect the pigs, people and natural environments in China and beyond.