Published 15/05/2013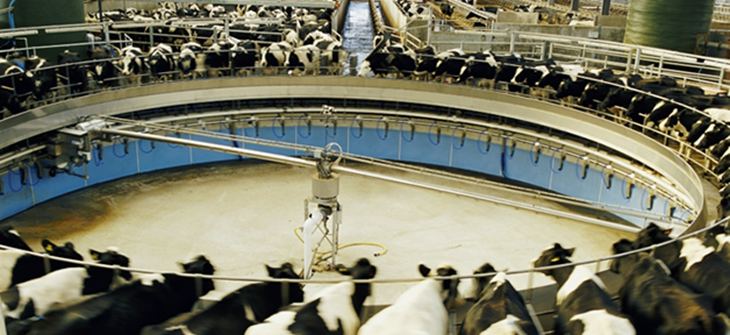 Farming in the UK looks set to change direction with the rise of "mega-farms" for cows, pigs and salmon. Earlier this week, the government backed the creation of large-scale facilities to increase the production of "cheap" meat. Unsurprisingly, this dramatic step towards even more intense factory-farming methods is dividing opinion, with campaigners warning of a threat to animal welfare, human health and the environment. We take a look at The Independent's coverage of the story.
Disclaimer: All quotes taken from this article in The Independent
The trend for "cheap" meat
A 1,000-cow dairy unit in Welshpool, Wales, might soon be in the pipeline. And in Ireland, plans for a colossal offshore salmon farm in Galway Bay are being drawn up. These huge modern facilities are believed by officials to be the answer to the growing demand for "cheap" protein in society, and advocates insist that the farms will increase scales of production with no negative impact on animal welfare or the environment.
A spokesperson for the Department for Environment, Food and Rural Affairs (DEFRA) said: "Increasing the efficiency of food production will help us meet rising demand for food. This can be done on any scale and in ways that actually deliver environmental benefits. Large-scale farms are required to meet the same environmental and animal welfare standards as all UK farms."
Mega-farms in practice
One example of a "mega-farm" in the making can be found in Powys, Wales, where Fraser Jones wants to treble the output of his dairy farm near Welshpool. Fraser acknowledges public concern, but believes it is unfounded: "The cows, which would be inside for 250 days a year, would be continually monitored and the dairy would promote good animal welfare", he says.
And over on the west coast of Ireland, the bid for a giant offshore salmon farm in Galway Bay, which would double the country's salmon output in one fell swoop, is also sparking fierce debate. Concerns over the potentially devastating impact of the farm on local ecosystems – particularly, salmon and trout stocks – are widespread.
Waste and other pollutants, as well as parasites, are believed to be the major threat to Atlantic wildlife. If it goes ahead, the super-farm will be five times larger than any other fish farm off the coast of the British Isles, and, according to Ken Whelan, professor of biology and environment from University College Dublin, it is a "giant experiment".
Meeting with strong resistance
But resistance to the move is strong. Campaigners are highlighting the potentially negative impacts of such a radical step, citing environmental damage and a threat to animal welfare as their main concerns.
Peter Melchett, the Soil Association's director of policy, said: "The solution is not to create huge-scale intensive operations that threaten our landscape, farming and rural communities. Large-scale industrial farms may be able to produce food a little more cheaply in the short term, mostly through reducing the number and cost of people employed. But we will end up paying a high price for what may be marginally cheaper food."
So, with plans for a handful of "mega-farms" already in the making, and with rumours of an international aquaculture company vetting sites in Scotland for their potential to host offshore fish farms, it looks as though a trend for huge-scale farming might be about to sweep the nation. Time will tell. But, as Carol Lever of the World Society for the Protection of Animals says, such decisions "should not be underestimated", since the existence of such farms "could potentially change farming and the countryside for ever".
A precedent against mega-farms
Thankfully, there is a strong precedent against the introduction of mega-farms to the UK. Cows Belong in Fields was the name of Compassion in World Farming's campaign against Nocton Dairies – the UK's first proposed mega-dairy. On 16th February 2011, after more than a year of campaigning, controversy and public debate, Nocton Dairies withdrew plans for the 3,700-cow zero-grazing farm at Nocton Heath in rural Lincolnshire.
The withdrawal was allegedly due to the serious objection to the plans by the Environment Agency. But North Kesteven District Council announced later on that it had planned to reject the dairy plans anyway. Reasons included the significant risk to groundwater quality and uncertainties regarding the impact and control of farm odours.