Published 07/08/2013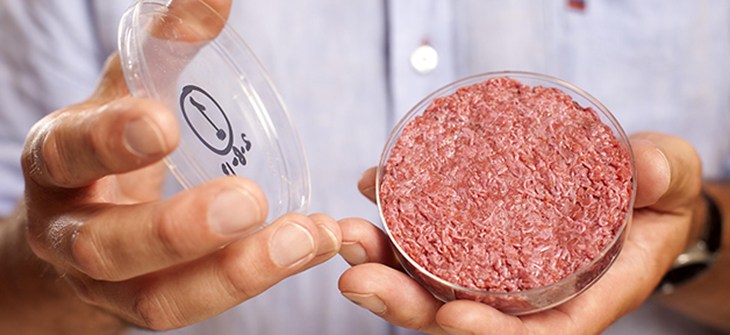 The world's first lab-grown burger was unveiled and tasted in London this week, under the glare of the world's media. Hailed by experts as an exciting step towards food security, but slammed by many as something straight out of science fiction, "cultured meat", or "lab meat", is the subject of hot debate. Here, we explore the "yuck" factor.
On Monday, the world's most famous beef patty was cooked by a chef and consumed by food critics who discussed its flavour, texture and appearance. Its likeness to meat was uncanny, they agreed, but it lacked a little on flavour. Professor Mark Post of Maastricht University, the brains behind the experiment, was pleased with the verdict. "It's a very good start", he said.
The result of years of research, the breakthrough burger offers what experts believe could be a sustainable solution to the problem of feeding a growing population that's more meat-hungry than ever. The current system of intensive-livestock farming is threatening the environment, human health and the welfare of millions of animals, and alternatives need to be found.
But synthetic meat has an image problem. The idea of eating a burger grown in a petri dish puts a lot of people off; in fact, some have gone so far as to dub Monday's phenomenon the "Frankenburger". But is it really all that yucky when you compare it to the gruesome reality of factory farming? We take a look.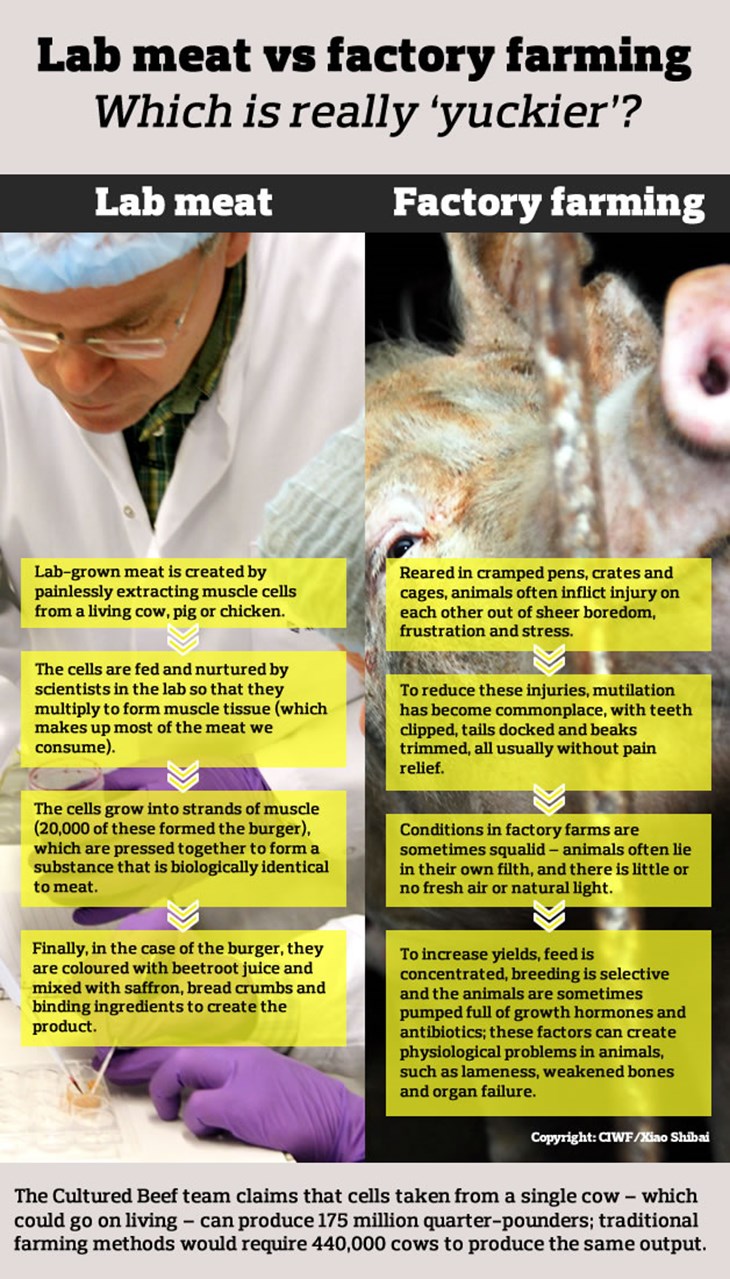 As Helen Breewood from Professor Post's research team says: "A lot of people consider lab-grown meat repulsive at first. But if they consider what goes into producing normal meat in a slaughterhouse, I think they would also find that repulsive". We couldn't agree more.
No quick fix
That said, synthetic meat should not be viewed as a cure-all to the challenge of feeding the world. Not only would it be nonsensical to eliminate traditional livestock farming altogether (it can bring vast benefits beyond food, such as improved livelihoods, soil enrichment, landscape management, etc.), but the process of growing meat in a lab is far from perfect: it's expensive, appears to require the use of antibiotics at the moment and doesn't yet seem to yield the same nutrient balance as traditional, higher-welfare meat.
But cultured meat has potential to be part of the solution. According to the BBC, a study in the Environmental Science & Technology Journal found that lab beef uses 45 percent less energy than farming cattle, produces 96 percent fewer greenhouse-gas emissions and requires 99 percent less land. These figures are simply too significant to be ignored.
The truth is that we need an arsenal of tools to overcome predicted food shortages. So alongside this triumph of science, which may or may not become mainstream, people everywhere should be looking to eat less but better meat. Not only is this option cheaper, but it's good for us and the planet, and can get underway today.