Published 18/09/2013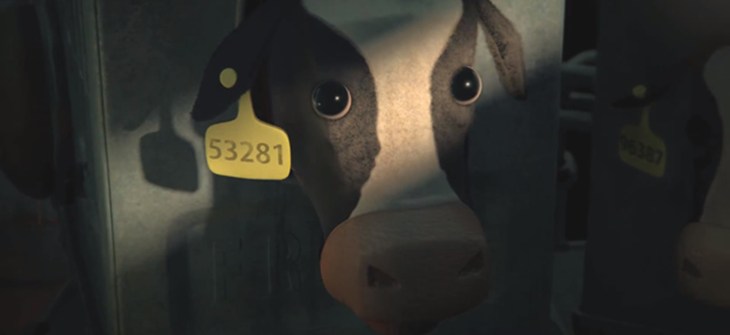 Its message is haunting, its style is charming – this is the latest ad from fast-food chain Chipotle to slam the intensive-livestock system, and it does so in three minutes flat. We investigate how music, classic storytelling and the vision of a dystopian future combine here to pack a huge and heart-rending punch.
Popular Mexican grill Chipotle, which has outlets in the US, Canada, the UK and France, prides itself on bringing organic vegetables and higher-welfare meat to the fast-food assembly line. Its mission statement, Food With Integrity, says it all.
The chain's first animated film, released in 2011, became the talk of cyberspace for its uplifting story about a farmer who breaks away from the intensive-farming system to focus on nurturing his animals and the land. Well, Chipotle's clever marketing team has done it again with its latest promotional film, The Scarecrow.
A scarecrow with a dream
The film is both a grim representation of the factory-farming model and a hopeful snapshot of what might be. It follows a dispirited scarecrow who works at Crow Foods – an industrial food giant that treats animals like commodities, injecting chickens with growth hormones and boxing cows into milking machines. Driven to despair by these horrors, the scarecrow sets out to reclaim the land, making wholesome food accessible again.
"We're trying to educate people about where their food comes from," says Mark Crumpacker, chief marketing officer at Chipotle, in USA Today.
Hard-hitting, the gentle way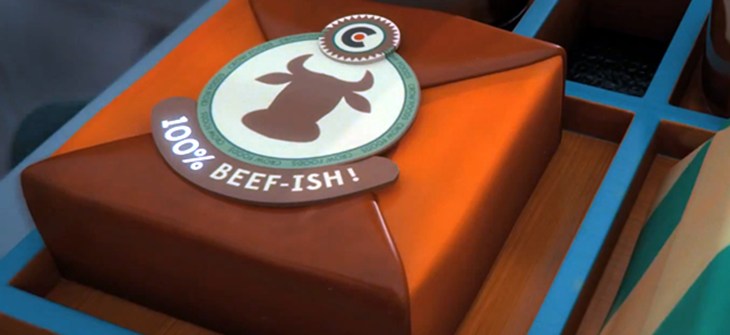 What's so compelling about the film is that it paints such a horrific picture with such a charming, gentle animation – the lighting is soft, the textures look so real they appear to jump out from the screen, and the scarecrow's facial expressions, betrayed by his eyes only, are undeniably moving.
The choice of music is also a winner. American singer Fiona Apple's haunting rendition of "Pure Imagination", made famous in the film of Roald Dahl's Willy Wonka & the Chocolate Factory, is entirely appropriate to the melancholy subject matter.
Animated about animation
The power of the film suggests that animation may have a lot to offer campaigners when it comes to communicating grim issues. For decades, people have been shown gruesome footage of animals kept in terrible conditions. But, in many cases, it's so hard to watch that it does the very thing it tries not to do – alienate viewers.
So perhaps a soft-edged, colourful animation, which gets away with caricature, exaggeration and touches of humour, is a more effective way to convey a difficult message. As Brandon Oldenburg of Moonbot Studios, the Academy Award-winning company that produced the film, says, The Scarecrow has "imagination, heart and a sense of play".
What's more, given the ag-gag laws in countries such as the US, which can make it extremely difficult to film inside livestock units, animation may prove to be the most simple and practical way of telling the story of factory farming.
The bigger picture
Though the film hasn't been met with universal fanfare (several farmers think it's an unfair representation of the realities of farming), one thing is clear – we're in the midst of a food renaissance. Large companies are now producing glossy, expensive marketing materials that focus on better ways of producing food – an unthinkable situation 10 years ago.
The fact is that people are increasingly tuned into their food and its provenance. You only need think of the horsemeat saga for evidence of this. Indeed, one of the most chilling parts of The Scarecrow is when a piece of packaged meat flies past on the conveyor belt with the label "100% beef-ish!" – an eloquent allusion, if ever we saw one, to people's growing concern about what it is they're really putting in their tummies.