Published 23/10/2013
The Supporting Better Dairy coalition will meet with the European Commission's Animal Welfare unit on Wednesday 23rd October to present the signatures of those supporting an EU directive on dairy cow welfare.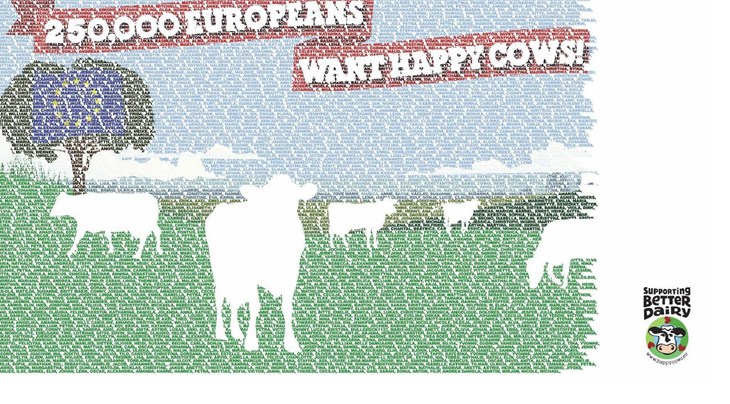 The meeting marks the culmination of the Supporting Better Dairy coalition between Compassion, Ben and Jerry's and the World Society for the Protection of Animals (WSPA). The campaign will continue to call for specific legislation to protect the welfare of our 23 million dairy cows in the EU.
Dil Peeling, Compassion's Director of Campaigns says: "It is high time for the EU to take notice of the worsening plight of its dairy cows and take action. We are urging the introduction of a species-specific directive to ensure their welfare."
Over a quarter of a million EU citizens (290,000) have submitted their signatures to the cause. These signatures will be presented in the form of an artwork depicting a cow in a higher welfare environment.
There is currently no species-specific EU legislation in place for the protection of dairy cows, unlike that for other farm animals such as poultry and pigs. It is estimated that 10 million cows in the EU suffer from issues such as cramped living conditions, poor diets and may suffer from health problems such as mastitis and lameness.
The campaign aims to achieve minimum welfare standards for dairy cow farming across Europe. This would involve:
Good Housing: including access to pasture and the prohibition of tethering.
Good Feeding: a daily diet which meets the cow's needs.
Good Health: ensuring the cows are healthy and do not undergo pain and suffering.
Appropriate Behaviour: cows being able to express their natural behaviours.