Published 04/11/2013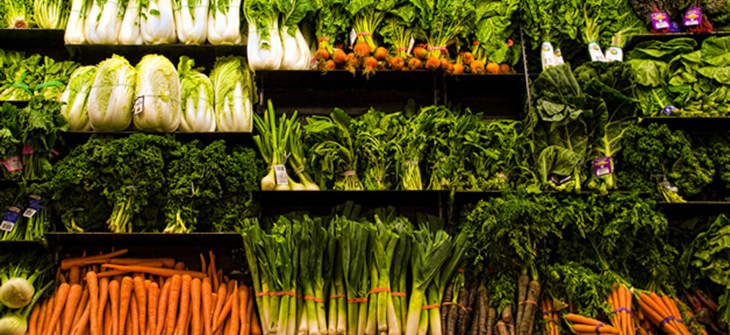 It seems the tide is turning on Britain's meat-hungry habits. According to a major new survey, we're more aware than ever of the social and environmental benefits of a low-meat diet – and it's changing the way we shop, cook and eat. We investigate this exciting new trend.
The YouGov survey in question was commissioned by the Eating Better alliance – a coalition of 35 organisations established in July this year and dedicated to promoting the benefits of eating less but better meat. In addition to Compassion in World Farming, alliance partners include Friends of the Earth and WWF; popular TV chef and sustainable-farming guru Hugh Fearnley-Whittingstall is also backing the initiative.
A game of numbers
The survey's key facts and figures seem to suggest a move away from meat mania, towards a national diet that's more veg-heavy than ever.
25 percent of people say they have cut back on the amount of meat they eat over the past year;
34 percent of people say they are willing to consider slowing down their meat consumption;
17 percent of young people say they don't eat meat at all;
a meagre 2 percent of people claim to be eating more meat than this time last year;
67 percent of people say they feel labelling needs improving so that more environmentally friendly meat products are easy to spot;
and around 50 percent of those surveyed say they'd be willing to pay more for "better" meat – for better taste, better health, better standards of animal welfare and better financial returns for farmers.
"This survey shows that despite the rising cost of food, many people are prepared to put values before value for money. The horsemeat scandal showed where a race to the bottom leads. This is good news for farmers, as well as the health of the public and the health of the planet", said Tim Lang, Professor of Food Policy at City University.
What's driving the change?
Animal welfare is top of the list of reasons for people eating less meat, followed by saving money, food quality and safety, and health issues. The findings also show a huge increase in awareness of the significant environmental impacts of a meat-heavy diet.
Arguably the most exciting part of the results, though, is the role of the forward-thinking younger generation in creating positive change. Our 18–24-year olds are better informed than any other age group when it comes to the threat high-meat diets pose to the planet.
The future's bright
Eating Better is aiming to create a lasting cultural shift, where we place greater value on the food we eat, the animals who provide it and the people who produce it. By making veg-heavy, meat-light diets a way of life, we can work towards more sustainable food-and-farming systems and, ultimately, a healthier and happier planet.
And it's clearly catching on. What this recent YouGov survey demonstrates is the public's growing awareness of, and interest in, the idea of eating less but better-quality meat. We're one small step closer to achieving food security for our planet and its ever-growing, ever-hungry population, and that feels very good indeed.
As Friends of the Earth's Vicki Hird, Chair of the Eating Better alliance, said: "We're delighted that more and more people are waking up to the benefits of eating less and better meat for health, animal welfare, the environment, and farmers, as well as saving money. Food companies must take note and do more to help people switch to healthier, sustainable diets."