Published 13/11/2013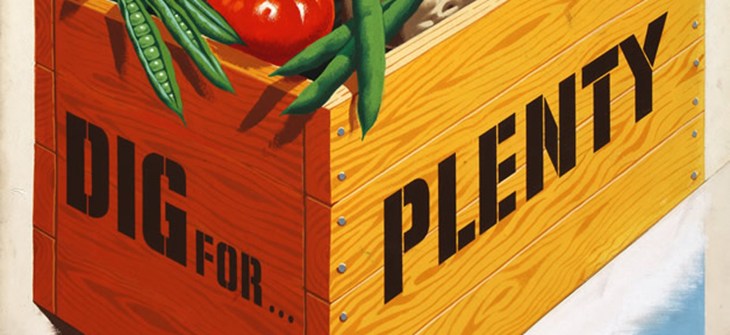 When it comes to food sense, we could learn a lot from the generations who lived through the World Wars – when wasting food was a rarity, eating meat was a treat and "growing your own" was commonplace. We delve into the wartime poster archive to share with you its pearls of kitchen wisdom.
It was a time when resources were scarce and food was rationed; when people made the most of whatever ingredients were in the cupboard and lived in harmony with the land. During the World Wars – and the intervening years – people were forced to make a virtue of necessity, eking out as much flavour and as many meals as possible from what little food they had.
The countless food and farming posters from this period, in both Britain and the United States, reveal an impressive set of guidelines to buy, cook and eat by. And the sentiments underpinning these images are just as relevant today, as we struggle with various environmental and humanitarian challenges.
Rules to live by
To help the war effort, people were encouraged to do everything from "lend a hand on the land" to "use less meat", "buy local" and "waste not, want not". Colourful, highly illustrated posters brandishing such bold slogans adorned city streets and country lanes, telling people "homemade bread wins the war" and "food is ammunition – don't waste it!". The emphasis was on food DIY and self-restraint – growing, cooking, conserving and savouring every last mouthful.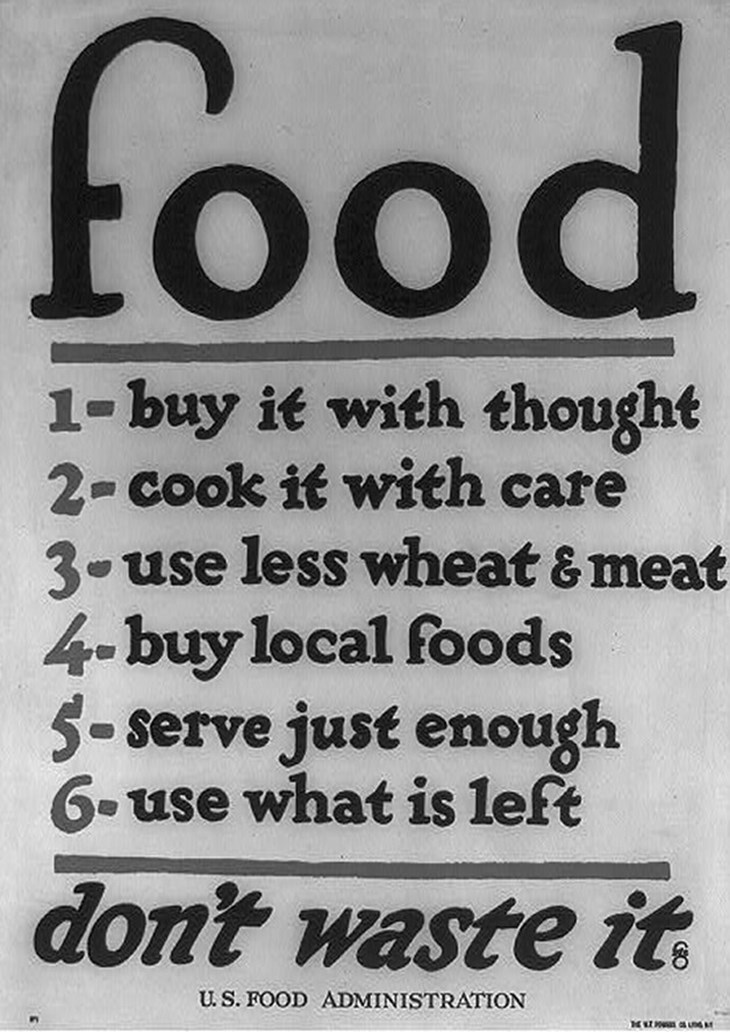 Less waste, less meat
Wasting food was one of the greatest crimes you could commit on the Home Front. As a matter of course, every morsel of food was hoovered up in the home, or at least fed to pigs and chickens (an idea that's as sensible today as it was then).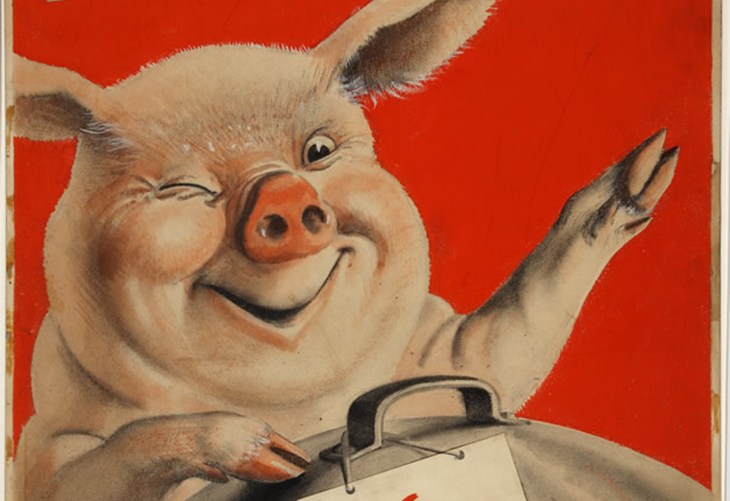 Home economics came into its own, with entirely sensible (and sometimes even quite scientific) ideas structuring home life and mealtimes. Skills in conserving were learnt by all, and in the US during World War II, people were taught regularly about the interchangeability of food – how meat, for example, could be exchanged for other sources of protein, such as cottage cheese, to save on resources and keep the population healthy.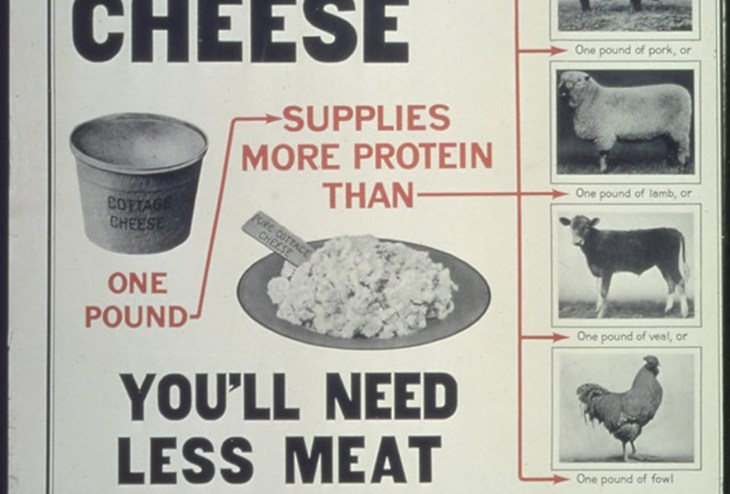 And long before Sir Paul McCartney and Mark Bittman started talking about cutting down on meat consumption, "meatless" days became a regular fixture in the United States.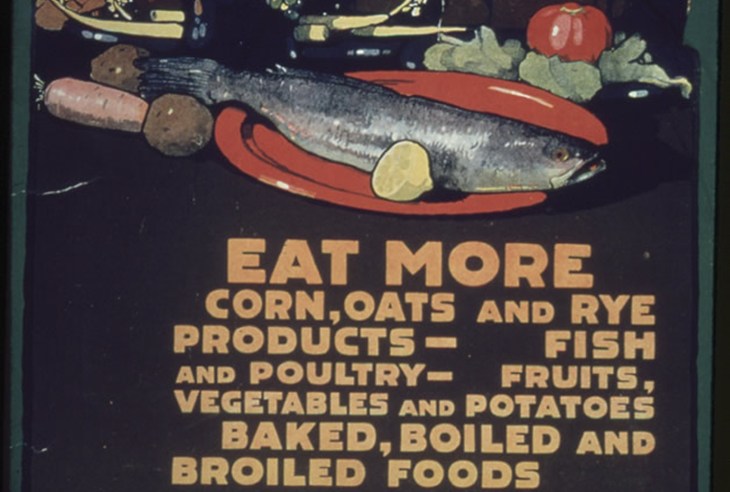 Soldiers of the soil
The other feature of wartime existence at home, of course, was the "dig for victory" mentality that encouraged people to cultivate the land and grow their own. People really got back to nature, tending the land to stave off hunger and to cultivate a sense of togetherness. Small-scale farming, in this way, became another weapon in the national armoury.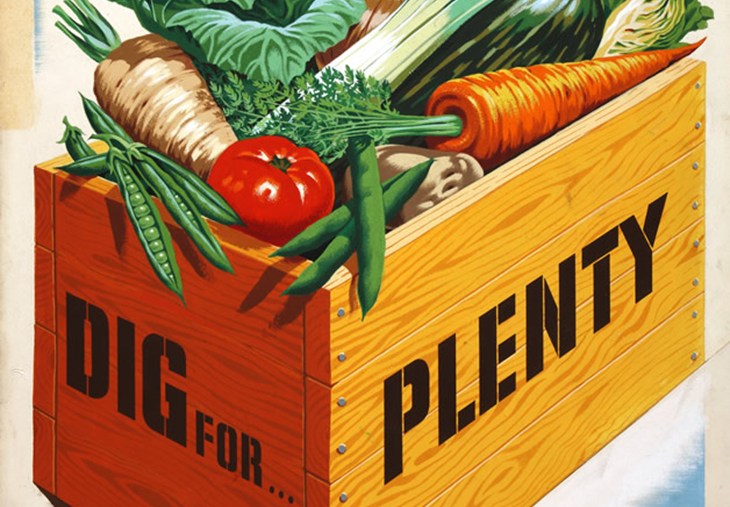 As a consequence, the farm-to-fork disconnect that plagues society today was virtually non-existent. People, quite literally, got their hands dirty – and with it came a no-nonsense approach to everything that passed their lips.
Ahead of their time
Of course, we're not suggesting that we have to go back to wartime austerity to mend our broken food system. But these historic posters impart a degree of food sense that seems to be missing in the Western world today. When it comes to finding some food and farming wisdom, it seems that these years are a great place to look.