Published 28/03/2014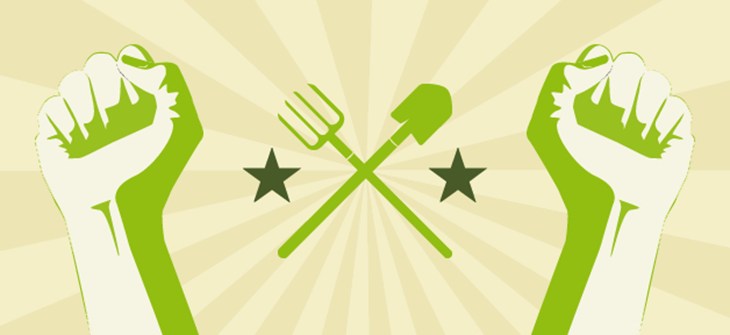 Since the dawn of time, people in every corner of the globe have cultivated the earth to nourish their families and communities. And right now, these small-scale farmers are firmly in the spotlight – that's because 2014 is the International Year of Family Farming.
The idea of growing fruit and vegetables and rearing animals in your backyard is not a new one. In fact, smallholdings have been the lifeblood of countless communities all over the world, throughout the centuries.
But agriculture in the modern age has turned a worrying corner; in many cases, more sustainable, land-based farming has given way to hyper-industrialised factory farming. And all this comes at a great cost, to our health, our livelihoods and our environment, not to mention the animals, who are crammed into cages, crates and sheds.
"Big" isn't necessarily bad, of course; as food and farming expert Colin Tudge says in his recent review of our book, Farmageddon: "Machines of many kinds have helped to take the slavery out of farming; agrochemicals and pharmaceuticals can solve short-term problems. But good farming – the kind that can feed people without cruelty – requires true craft and empathy; industrialisation that replaces craft and know-how is deeply pernicious."
And that's why the United Nations Food and Agricultural Organization (UNFAO) has made 2014 the International Year of Family Farming (IYFF) – an initiative designed to support, celebrate and promote family farming, highlighting its far-reaching benefits for people, animals and the planet.
Family farming and its benefits
We've summarised some of the key stats and benefits of family farming in a simple infographic:

Fighting for family farmers
There can be no doubt about the need to empower family farmers – they are great innovators and impressive entrepreneurs, but they face huge challenges and barriers, and need more support.
At the moment, more than 70 percent of the world's food-insecure people live in rural Africa, Asia, Latin America and the Near East, and many of them are family farmers. The problem is that these people often have poor access to natural resources, such as land and water, and technologies that would help them optimise their output.
One of the most effective ways of supporting these farmers is through governmental intervention – anything from technical assistance to insurance to market access. If these were put in place, then we would likely see a surge in productivity.
Through the IYFF, the FAO seeks to persuade politicians – and the public – of the limitless potential this kind of agriculture can play in creating a safer, healthier and happier world. The campaign is designed "to reposition family farming at the centre of agricultural, environmental and social policies in the national agendas".
Our view
Here at Compassion in World Farming, we would argue that big is not necessarily bad – after all, large, extensive farms do exist (and indeed, some families do run large farms).
But what's clear is that we must support the vital role played by family farmers, both in the developed and developing world. From veg patches to smallholdings to large-scale organic farms, from indigenous people to fishermen to wealthy landowners, we're joining the FAO in highlighting the value of family farming.
As IYFF campaign supporter World Rural Forum says: "We must honor and support the 2 billion smallholders, family farmers, and landless peasants, as well as countless others involved with rural agriculture".
If this blog has left you wanting to know more, here's a great video from another IYFF supporter, Food Tank, explaining why family farming is so important.