Published 21/05/2014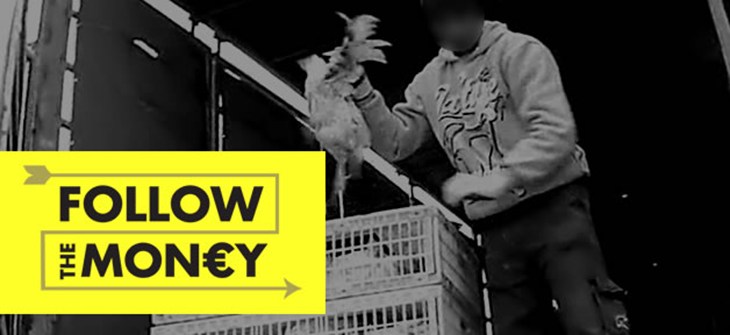 Hospitals, schools and roads don't come for free – they're generally funded with our taxes. And that's a good thing, of course. But Compassion in World Farming has uncovered a shocking secret; your taxes are also funding the cruel and crazy practice of factory farming. In response, we've launched Follow the Money; a new campaign to tackle this madness. Here's the background on yet another food scandal and what you can do to fix it.
It's a modern-day scandal of spectacular proportions. You pay your taxes, year in, year out, expecting that they're being used to create a better world. You care about the food you eat, and try to make the "right" choices. You provide vital support to charities and campaigns. But, unbeknownst to you, your taxes are being used to fund the very farms that are wreaking havoc on our world; the very farms that outrage you.
Banking on brutality
Over the last few months, we've been working hard to investigate and expose the European Bank for Reconstruction and Development (EBRD) – a public bank that's owned by all of us and funded by our taxes – that's long been banking on brutality.
The EBRD is a "multilateral development bank" – an institution that funds projects in a number of countries in order to support and encourage economic development. Despite its name, the bank is owned by 64 countries all over the world.
And residents in these 64 countries all "own" a stake in the EBRD. In the UK and France, for example, each resident has a stake worth around £15.
How much of the EBRD do you own?
Sixty-four countries own a stake in the EBRD. We've worked out how much of the bank each individual resident in these countries "own". Have a look below and find your country (listed alphabetically) to see how much has been invested in your name (rounded to the nearest euro).

All figures are based on the latest data published by EBRD.
Disturbing evidence of brutal banking
Between 2002 and 2011, it's thought that the bank spent a jaw-dropping €218 million on livestock projects in various countries around the world. As part of our Follow the Money campaign, we explored several EBRD-funded farms in Turkey and Ukraine and the results were shocking: animal and farm-worker abuse; local communities driven to the edge; and environmental damage.
See the evidence of brutal banking for yourself in our short investigation film below, or click here to explore the campaign.
Despite evidence to the contrary, the EBRD insists that it seeks to finance projects that are "socially and environmentally sustainable" and "respect the rights of affected workers and communities". And yet there's a staggering disparity between these statements and the realities of the farms they're funding.
During an emergency meeting at the bank's HQ, a spokesperson told us that the EBRD will be working hard to promote better animal-welfare standards in the farms it funds by ensuring that livestock projects meet EU animal-welfare standards; while that's a start, it only scratches the surface of the problem.
Factory farming on the rise
Our investigation is just the tip of the iceberg; wherever you go in the world, you find the same stories of destruction. Factory farming doesn't work. And factory farming isn't something that you can improve – it's fundamentally flawed.
Following the money
This is exactly why we've launched our campaign, Follow the Money. What we found in Turkey and Ukraine is just a snapshot of a huge and horrendous problem that touches every one of us; we're all subsidising a catastrophe in the making.
With your help, we're making a stand against those banking on brutality. We're shining a spotlight on the injustice and showing the banks that we don't want them to finance factory farming.
If you haven't yet done so, join our movement, which is already in full swing on Facebook and Twitter, and share our message with as many of your friends and family as possible. We'll keep you posted on the latest campaign news and developments, as well as how you can take action.
By curbing the flow of funds into the cruel and crazy business of factory farming, we'll start to send a clear message around the world – we vote for farms, not factories.