Published 16/07/2014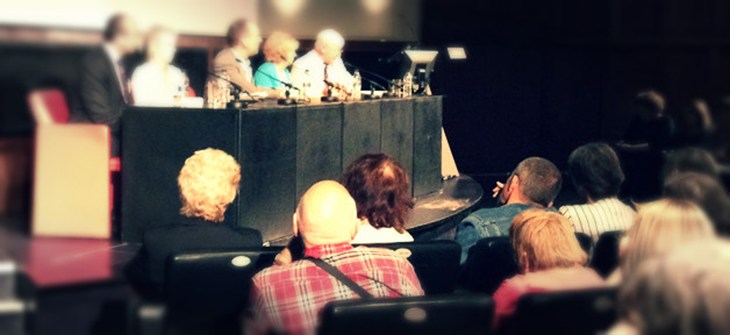 Campaigning in the digital era is fantastic – as we found out recently, our content can go viral overnight and our message can reach thousands of people at the click of a button. But we also love to meet you in person; to hear, first hand, why ending factory farming matters to you. So we were thrilled when, recently, we got to meet hundreds of you to celebrate our victories, swap campaigning stories and share our plans to fix the world's broken food system.
Last weekend, the Compassion team met with more than 350 loyal supporters to discuss our shared desire to put an end to factory farming. It was an opportunity for you to meet the team that's working on your behalf and for us to say a massive thank you for such incredible backing, for so long, from so many.
Farmageddon focus
The long-awaited gathering, which took place in central London, kicked off with a series of short presentations from our panel of food-and-farming experts, which included Compassion CEO, Philip Lymbery.
The talks were both personal and global, heartbreaking and rallying. At times, they focused on our collective achievements. As Joyce D'Silva, Compassion Ambassador, said: "We would never have been able to ban veal crates throughout the EU, without you. We wouldn't have seen the ban of the barren battery cage for egg-laying hens without you. Nor the partial sow-stall ban… You made these things happen and for that we are so grateful."
At other times, they shone the spotlight on the fight that's yet to be won – namely, the global battle to end factory farming, the importance of which is explored in our bestselling book, Farmageddon.
Isabel Oakeshott, who co-wrote the book, spoke of the literal and metaphorical journey she went on during the project. Not only did she travel the world to witness the dire impact of intensive farming, but also her own perspective underwent a radical shift during those three years. Her awareness of, and disdain for, factory farming – once a distant and unfamiliar term, seemingly irrelevant to her life – quickly grew, shaping her day-to-day food choices.
Having your say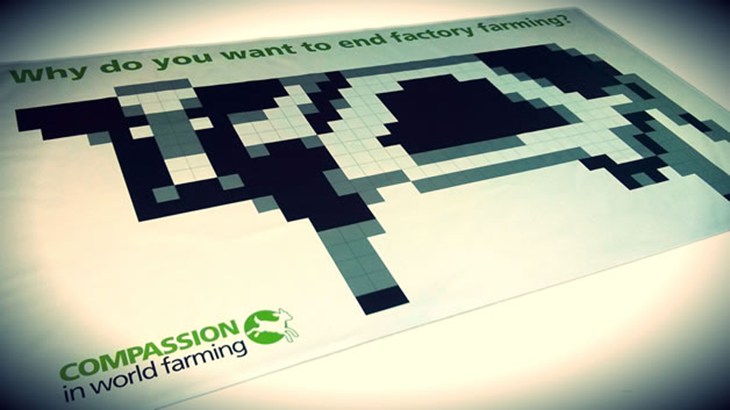 Following the main event, there was the opportunity for the Compassion team – staff and supporters – to gather to ask questions, share ideas and get to know each other.
A highlight of this part of the afternoon was the communal artwork we created as a symbol of our mission, our message and our many voices united.
The life-size installation, dubbed The Compassion Cow, was a pixelated version of the cow on the front cover of Farmageddon. Supporters wrote on coloured post-it notes why ending factory farming matters most to them, and then pinned their messages onto the cow.
And here are just some of our favourite answers to the question: Why do you want to end factory farming?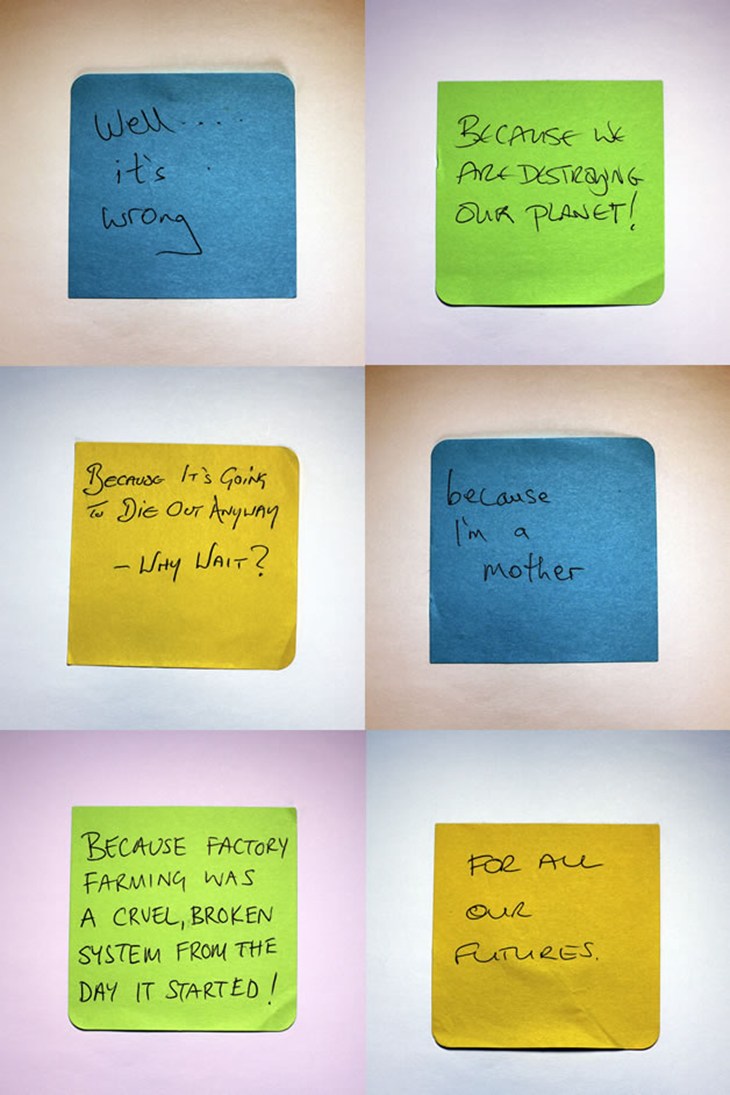 You made our day!
Saturday's event was not just a celebration of what we've achieved over the years, but – more importantly – it was a symbol of what we can achieve, if we continue to work hard together towards the common goal of creating a humane-sustainable food system; of ending factory farming.
It was fantastic to see so many of you there; to hear why you're standing alongside us to put a stop to farmageddon and to experience the passion we all share when it comes to fixing our food.
Whether you managed to attend or not, your tremendous support over more than four decades is why we're still here today, fighting on behalf of farm animals, people and the planet. We're looking forward to the next chapter!