Published 13/08/2014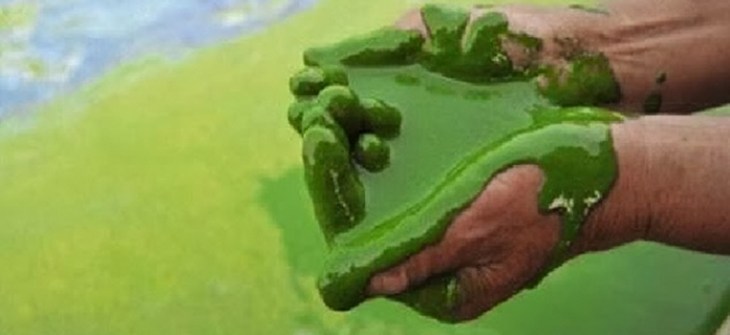 Who'd have thought that a body of water could get sick? Well, as the residents of Toledo, Ohio, know – all too well – lakes certainly can. Lake Erie, the western end of which butts up to the city, is in serious trouble due to toxic algal blooms that are killing off wildlife and endangering lives. And factory farming is partly to blame. Our infographic shows how.
At its worst, drinking the stuff is out of the question. It can cause skin rashes, liver and kidney problems and – most commonly – stomach upsets. So what is it? A highly potent pharmacy drug, a noxious industrial chemical or America's toxic 21st-century tap water? Frighteningly and unbelievably, it's the latter.
The water in Toledo's ailing Lake Erie, which supplies the city and surrounding area, has been beset by blooms of poisonous blue-green algae that are said to be – in part, at least – a result of pollution from nearby factory farms. This is a sobering, shocking and uncomfortably close-to-home case of agriculture gone awry.
Sound too strange to be true? Too complex to understand? Well, our infographic below should help you to get your head around the colossal contamination of one of America's Great Lakes.
Get the full-size version of this infographic to share.

Not just America – China too. A personal account of an algal bloom
When Compassion CEO, Philip Lymbery, was researching bestseller Farmageddon, he visited an algal-bloom disaster in China. The third-largest freshwater lake in China and a popular tourist destination, Lake Taihu was so polluted that the fish and surrounding wildlife were being killed by the toxic algal bloom. The cause? Pig-farming effluent.
Pollution from factory farms was flowing straight into the lake and employees were desperately attempting to keep the algae at bay. It was reported that 2,000 intensive-livestock farms were contaminating the lake's water basin. When he stood on the lakeside, his boots were covered in thick oily-green slime and the water was lined with what looked like green paint. It wasn't the first time algal blooms had hit this once-beautiful lake. In 2007, it was affected so badly that more than two million people had their drinking water cut off. The lake has since become a symbol of China's deteriorating water quality. Despite this, China is investing heavily in industrialised agriculture. See Philip's experiences below: