Published 25/09/2014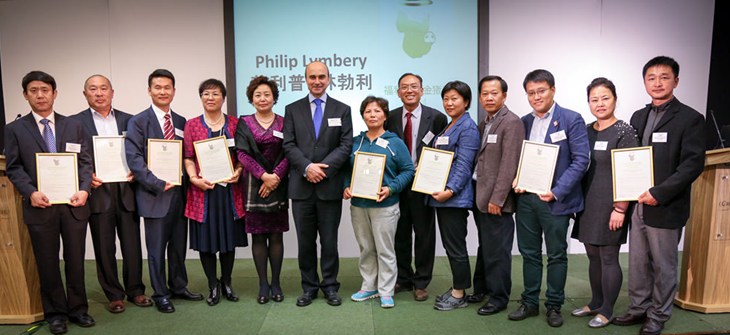 Compassion has awarded 13 Chinese producers with a Good Pig Production Award. This is incredibly exciting as it is the first animal welfare award to be delivered in China.
The new award recognises pig producers who do not use sow stalls in the gestation process and are making significant commitments to improve welfare for pigs.
A study tour group of Chinese pig producers came to the UK to visit higher welfare British pig farms, eight of which were presented with their awards.  
Promoting higher welfare pigs
Our CEO, Philip Lymbery, said: "We are delighted that eight of the 13 Chinese winners were able to join us, here in the UK. It really proves the fact that animal welfare is an issue worth fighting for, all over the world.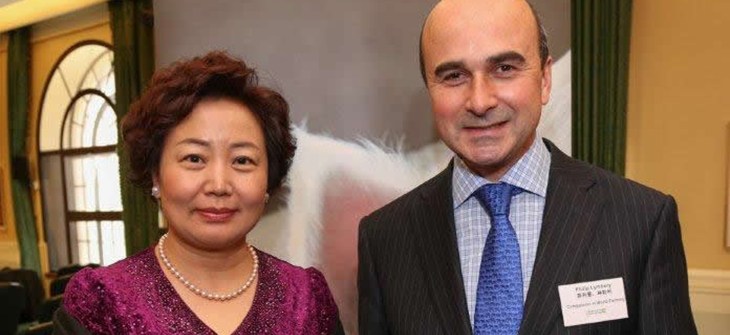 "The connection between how farm animals are kept and the quality and safety of the resulting food is starting to be recognised in China.  With over 680 million pigs being reared every year in China, it is time to take action now."
We have been working in partnership with the International Cooperation Committee of Animal Welfare (ICCAW) in China over the last year to develop and deliver the award. This is China's first award to demonstrate the country is taking animal welfare, food safety and sustainable livestock production more seriously. As part of the ICCAW partnership, Compassion also participated in the development of the first official Code of Practice for pigs in China.
At the event, we were delighted to welcome several specialists in pig welfare. These included:
Mark Hayward - a Partner at Dingley Dell Pork
Kate Parkes from the RSPCA who introduced the RSPCA Freedom Food scheme for pigs
Emma Baxter who discussed free farrowing systems for sows
Niels Wuyts who shared his expertise on Improvac and the incredible welfare benefits it could give male piglets
And Ian Campbell the Managing Director of Unitron UK Ltd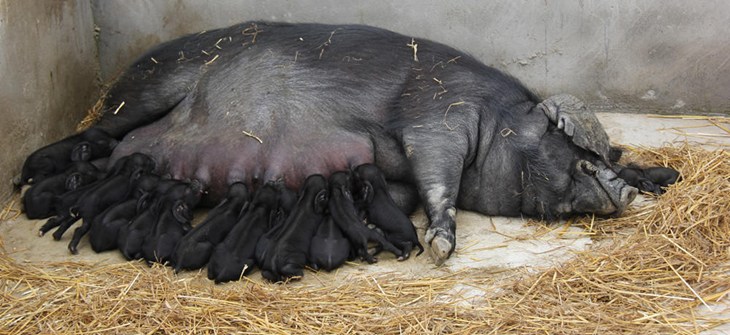 Our Director of Food Business, Dr Tracey Jones, said: "It was a touching moment to watch our award winners proudly stand and collect their certificates from our CEO and Ms Xi [Executive President of ICCAW]. Their faces said it all – this was a momentous occasion – and their peers were delighted for them. At dinner last night, Ms Xi explained just how momentous the event had been. This was the very first time Chinese pig producers had ever been recognised and valued for their achievements."
"It has been a pleasure working with ICCAW on developing and implementing the Good Pig Production Award for Chinese producers, and for hosting the producer study tour. They are so keen to learn and implement steps to improve animal welfare. We estimate more than 750,000 pigs are set to benefit from our producers commitments and practices …. That's definitely something to celebrate!"
Congratulations to our award winners
1.         Hebei Xinlaonong Husbandry Technology Co. Ltd.
2.         Jiangsu Donghai Breeder Farm
3.         Shanxi Baicaopo Agriculture Ecologist Science Center Co., Ltd.
4.         Yanbian Jincunzhang Wild Animal Production Farm
5.         Shandong Huashengjiangquan Agri-Husbandry Development Co. Ltd.
6.         Beijing Qingquanwan Pig Production Co. Ltd.
7.         Guangdong Dexing Breeders Co. Ltd.
8.         Guangdong Yihao Food Co. Ltd.
9.         Guilin Waiangjiaguo Agriculture New Tech Development Co. Ltd.
10.       Baoding Wangshengminda Livestock Production Co. Ltd.
11.       Sanmenxia Chuying Agri-husbandry Co., Ltd
12.       Beijing Taixinfumin Pig Production Co. Ltd.
13.       Guangdong Yingnong Agriculture and Husbandry Co., Ltd