Published 14/10/2014
What do you get when you combine a higher-welfare egg farm, a smart sandwich processor and an airline with a conscience? An "ethical" in-flight meal for meat-eaters, that's what. Here, we meet the people giving plane food a facelift.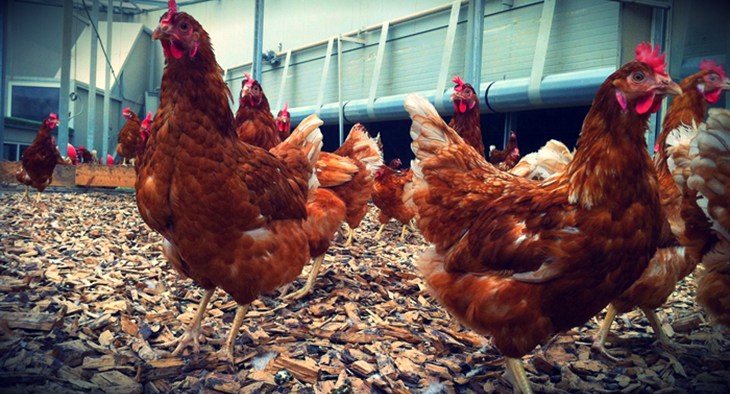 It's fair to say that very few of us look forward to the meals we're given on planes. They tend to be lukewarm, colourless and bland, and sometimes – especially where meat is concerned – rather unidentifiable and unappealing. In short, sky-high cuisine leaves a lot to be desired.
The truth is that without a fully functioning on-board kitchen with a great chef and a team of helpers, what can we expect? Airline food is pre-prepared, packaged up in a plastic tray and re-heated the way it is because it has to be – it's the most practical route to filling hundreds of hungry tummies all at the same time.
But could there be a way of creating mouth-watering airline meals, in spite of all this? KLM Dutch Royal Airlines certainly thinks there is – and it's all about using exceptional ingredients, particularly higher-welfare meat.
An airline to admire
KLM has a great track record for initiatives to reduce its environmental impact and help support a sustainable society. One of its major commitments in this area is to supply great-quality, planet-friendly food to their passengers.
Recently, KLM decided to offer in-flight chicken sandwiches made using higher-welfare meat – a move that impressed us so much that we awarded them a Good Chicken Award for it.
Through a smart and sustainable supply chain, KLM makes good use of meat from humanely reared ex-egg-laying hens, who would usually be slaughtered earlier and end up in products such as soup or bouillon. It's an innovative and inspiring model, and it all begins at the higher-welfare Dutch laying-hen system known as Rondeel.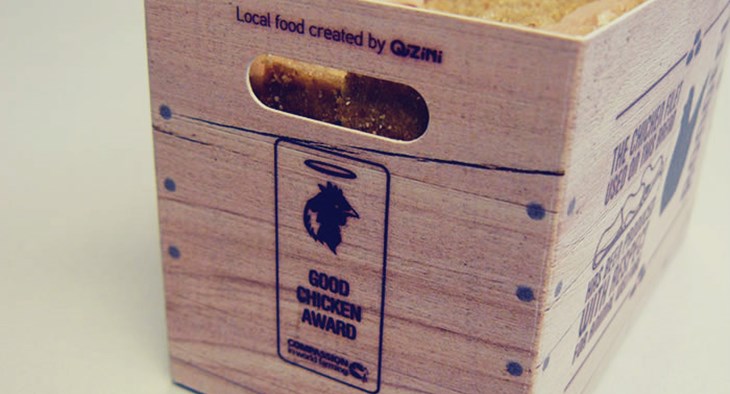 Forward-thinking farming
As we know, factory farms produce most of the meat that's eaten in the world, and – in the most part – are synonymous with animal cruelty. As a result, we spend much of our time here at Compassion championing free-range, grass-fed, higher-welfare meat, eggs and dairy.
It seems the Dutch have found an exciting alternative to both these options – Rondeel, a barn system that isn't officially "free-range", but which nonetheless offers a high level of welfare for the 30,000-strong flock it contains. Its circular design is divided into five sections; the birds live in the central part, but have the freedom to explore the wider end of their pie-slice-shaped area.
Rondeel's defining features include access to protected outdoor areas with soil, natural light and tree cover, where dust-bathing, foraging and ranging are commonplace; and multi-layered night quarters, in the inner sections, have separate areas for feeding, nesting and laying, and perching.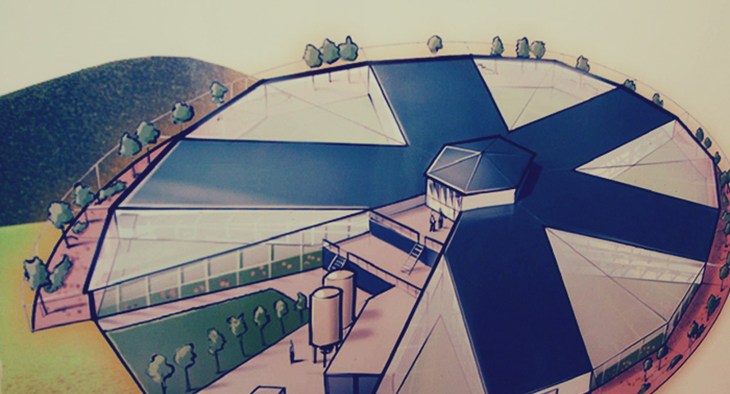 The incredibly well thought-out system has won the maximum 3-star rating of the Dutch welfare group Dieren Bescherming, an accolade that's usually only given to organic systems.
Waste not, want not
But Rondeel didn't want to stop at that. In order to push their sustainability effort even further, the groundbreaking enterprise struck a deal with the Dutch sandwich-supplier Qizini, who pledged to use the meat of Rondeel's ex-laying hens in some of their products.
Qizini, which supplies 3.5 million chicken sandwiches to KLM every year, is known for its ethical credentials – where possible the company uses meat from animals that are raised humanely and strives to source as locally as possible. An incredible 80–90% of Rondeel's hens, at the end of their laying lives, are used in KLM's in-flight sandwiches, supplied by Qizini.
As Frank Vos, Qizini's Commercial Manager, said: "We were very excited about the prospect of being able to offer something a bit different – a product which truly values the life of laying hens, which are raised under such humane conditions. All of the ingredients that go into our sandwiches for KLM use the most natural, local ingredients and through this partnership we are able to use the notion of local farmers to feed the world."
A model for many
There are currently four Rondeel farms in the Netherlands, but its owners are pushing for the franchise to be sold into many more countries – a move we'd wholeheartedly endorse, for two reasons. Firstly, the scaling up of Rondeel's humane system would benefit many millions of birds across the world. Secondly, its push to sell the meat of ex-laying hens is an exciting and all-round sensible move, furthering the value of the hens' lives and providing "ethical" meat for many.
We'd like to end with the words of Roel Verwiel, Food and Beverage Manager at KLM: "We loved the concept of using this chicken meat in our sandwiches", he said. "It's one that truly values the hens' lives and is a great story to tell. By rationalising our on-board food offer and reducing the variety of sandwich flavours we use, we are now able to provide our customers high quality, ethical food at the same cost."
Fancy a trip to Holland, anyone?
Get more amazing news like this!
Submit your email address to allow Compassion in World Farming to send you urgent campaign actions and news (you can unsubscribe at any time).