Published 03/10/2014
When ripened fruit, yellow moons and celebrations of nature's bounty punctuate the weeks, it can only mean one thing – harvest. But how many of us know how our food is gathered? This week, we're looking at the mega-machinery behind our meals.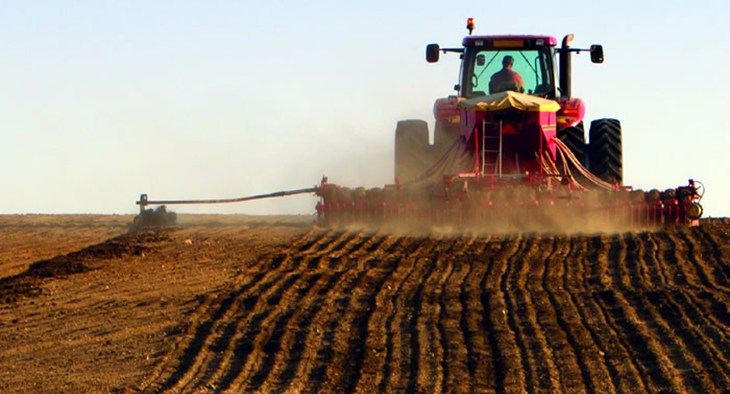 It's likely that many of us associate early autumn with baskets full of colourful fruit and vegetables, as well as tins, cans and packets containing all manner of edible delights – a legacy, probably, of our childhoods, when we celebrated harvest festival in school halls and churches, year in, year out. Some of us may still mark the occasion today.
Then there's Romantic poet John Keats's much-loved "Ode to Autumn" of 1819, which opens with one of English literature's most evocative and memorable descriptions of harvest time. His "season of mists and mellow fruitfulness" is about as deeply ingrained in the national consciousness as any line of poetry could possibly be.
Behind the scenes
But how many of us ever look beyond this "mellow" fruit and veg, to spare a thought for the farmers who harvest it in the first place? Who ever wonders how so much food is pulled out of the ground so efficiently, and in such a short space of time?
We do. In this article, we're looking beyond plentiful produce, to the technology that makes it possible throughout much of the world. But before we get going, we should just clarify that what follows is not a show of support for industrial agriculture, or a rejection of small-scale efforts. Instead, it's merely an informative run-down of the mighty machinery bringing fruit and veg to the masses.
Get ready for five extreme, extraordinary and exceedingly efficient inventions!
Agriculture's mega machines
1. The combine harvester
First comes the world's most efficient combine harvester, the bright-yellow, 3-tonne munching monster known as New Holland CR9090. This machine has made the Guinness Book of Records for its super-charged performance: its 180 razor-sharp knives cut through a staggering 551.6 tonnes of grain in a mere eight hours. It's guided via satellite and boasts a cruise-control function, to boot.
2. The carrot harvester
Next in line is this impressive, slightly scary-looking carrot harvester – an almost fantastical design resembling a giant, stinging insect, with its sharp, spindly "arms" and vivid-red hue. Using hydraulics and a top-lifting function, this cutting-edge creation pulls carrots free of the earth with an apparently effortless motion, whatever the weather. Prepare to be mesmerised.
3. The strawberry harvester
The weird and wonderful robotic strawberry harvester really has to be seen to be believed. Far smaller than the others in our list, the clever cyborg – dubbed an "agrobot" – is speedy, agile, robust and massively productive. Using a hydraulic system of "dancing" poles and metal "hands", the berry-gatherer selects and picks its yield based on size and level of ripeness – all at the push of a button.
4. The broccoli harvester
In a unique partnership between man and machine, the broccoli floret harvester can gather more than 125 million portions of broccoli in a year. As it trundles along, staff assess and select the greens. The best brocs are then sent, on a conveyor belt, to the inside of the vehicle, where more people perform a quality assessment, before packaging them up. It's a fine-tuned, hands-on design.
5. The grape harvester
Last but not least comes the gangly grape harvester – and it's a bit of a weird one. This tank-like, towering piece of tech looks like a tractor on stilts, only it's a tad nippier – and nattier. Controlled from on high using a simple touch screen, the formidable beast straddles the vine rows, its grape-hungry jaws ripping the fruit clean away from the branches as it goes. Wine glasses to the ready!
What's the wackiest agro-invention you've ever seen? Let us know your thoughts on Twitter or on our Facebook page.
Want to champion true innovation?
Pledge to help end archaic factory farming. Submit your email address to allow Compassion in World Farming to send you urgent campaign actions and news (you can unsubscribe at any time).