Published 31/10/2014
Mike Beckingham is a star of our recent film, Time to Decide – a moving piece that explores animal cruelty throughout the ages. He recently told us how the experience of being in the film has changed the way he buys his food – forever.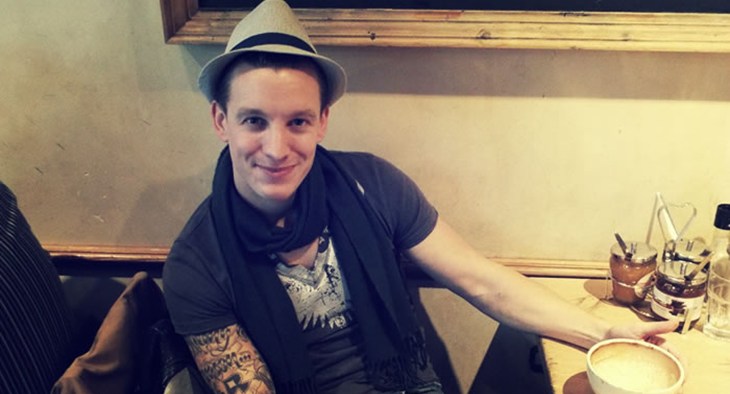 In the film, Mike plays the smirking, sparkly eyed chap who takes pleasure in watching bear-baiting on the big screen. Cockily, he lights a cigarette, takes a drag and looks up in wonder at the "sport" that's playing out before his eyes. This is Britain in 1918, when such cruelty was less a taboo, and more a form of entertainment. It's an unforgettable, stomach-churning scene, and Mike Beckingham shines.
Anyone who's seen Time to Decide, which is part of our End the Cage Age campaign, will know its endgame – to reveal how every generation is complicit in perpetuating animal cruelty, in some form or other, including our own. Factory farming, which confines 700 million farm animals in cages every year, is one of the worst and most widespread forms of animal cruelty on the planet – a complete and utter scandal, in our otherwise enlightened times.
The film has been a runaway success, thanks to our partnership with Catsnake Film, whose vision and guidance throughout the entire production process was second to none.
This week, we met up with Mike (whose brother happens to be Hollywood star Simon Pegg) to talk about how his experience of working on the film, and his newfound knowledge of factory farming, has changed him – for the better.
Meeting Mike
"It's no fluke the film's had 130,000 views – and counting!," says Mike, through a big, bright smile. "The quality of that production, the level of detail, the hard-hitting content… it was incredible."
"I didn't quite know what to expect", he continues. "But it just snowballed. And I'm really proud to have been part of it."
Before appearing in the film, Mike was an animal-lover – "My mum's a dog-groomer and I come from the country." – but he admits that he hardly gave a second thought to the food he bought. All that's changed now, he explains.
"It's been a really, really great journey for me – I've learnt a lot. This film was a real light bulb moment for me... I'm changing my habits. Now, I really look out for what I'm buying in supermarkets."
Mike is one energetic, passionate guy, which probably explains why he's achieved so much in his 32 years. The actor was a professional footballer for 25 years (unbelievably, that all kicked off when he was seven). Since then, he's pursued an acting career while holding down various day jobs, and it's paid off: he has his first feature film, Subconscious, coming out next month.
According to Mike, realising your dreams is all down to dedication and authenticity: "Work hard and stay true to yourself – eventually, you'll get there", he insists.
Levelling the playing field
And that's a maxim he applies not only to his acting work, but also to our cause here at Compassion: "It's like anything in life – work hard enough and you will make a change. It's all about small steps."
Mike believes that the key to upturning society's habit for "cheap" meat is to inform people, so that they can make up their own minds and feel empowered.
"It's all about educating people. It comes down to the consumer, but they have to be given a level playing field – they need to know the facts."
"Because life is so busy", he continues, "I think you have to take some of the responsibility away from the consumer. It can't all come from us. You have to make it easier for people. Labels should be easier to understand."
Mike recalls how cheated he felt when he found out how tuna-fishing was trashing the ocean. This is a guy who spends a lot of time in the gym and who had eaten tuna without a worry for years, to stock up on protein. Now he's very wary indeed.
Making the invisible, visible
For someone who has only just started to engage with the horrors of factory farming – and the need to stamp the system out – Mike Beckingham is incredibly well informed.
"Factory farming is hidden and that's the scary thing – it's all behind closed doors. We need to break down those doors." A brief, but brilliant, summary of the status quo.
He goes on: "I believe there's a lot of good in the world. It's all about building momentum – if everyone did a little bit, it would make a massive difference."
We couldn't agree more – and it's so exciting to have Mike on board.
Have you seen – and shared – Time to Decide? Let us know your thoughts on Twitter or on our Facebook page.
Together, let's take action to fix our food!
Pledge to help end factory farming. Submit your email address to allow Compassion in World Farming to send you urgent campaign actions and news (you can unsubscribe at any time).