Published 06/11/2014
Our most popular piece of content ever, The Secrets of Food Marketing has had a staggering 10 million views – and counting! We catch up with the video's leading lady to talk farm animals, families and fair food for all.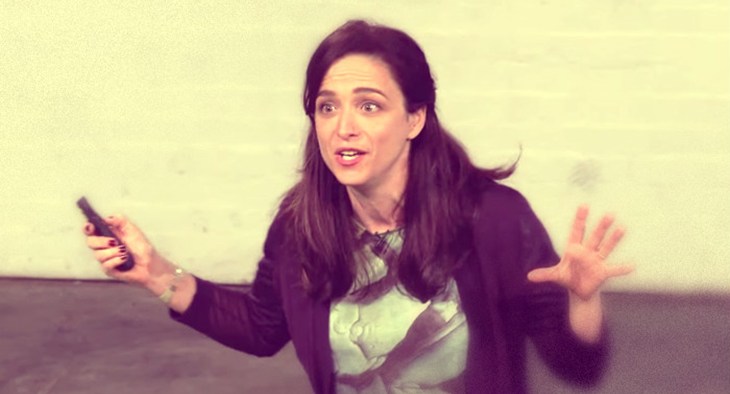 Kate Miles is a huge talent. In our sensational viral video, the RADA-trained actress pulls off the part of a polished food-marketing consultant giving a TED-style lecture so convincingly, that she has her audience completely and utterly hypnotised by the secrets she's revealing. The most shocking of these is how consumers, in all their "wilful ignorance", are partly to blame for the cruel, crazy practice of factory farming.
As videos go, this 7-minute short – produced in collaboration with the exceptional team at Catsnake Film – packs an almighty punch. It's sobering, stirring, shocking and massively inspiring. Unsurprisingly, perhaps, it's been hugely successful, with 6.5 million YouTube hits so far, as well as more than 3.5 million views through other channels.
Recently, we met up with Kate to see how making the video, and the public's reaction to it, has impacted her life.
The domino effect
"This experience has blown me off my feet", says Kate. "It's one of the best things that's happened to me in years. The volume of response has been incredibly exciting – you know, just feeling that something you've done has had an impact."
What Kate loves so much about the film is the effect it seems to be having on others. Since watching it, for example, her cousin and several friends are talking much more about the issues it raised and have already cut back on meat. And if you scale this domino effect up across millions of others, the potential is mind-blowing.
"The film has been a fantastic device for getting the message out there", says Kate. "I just don't see how – once you've seen it – you can't stop, think and make an informed choice. And if it's changed me, I'm sure it's changed others for the better, too."
Family focus
Kate has been a vegetarian since the tender age of five, when her older sister told her that eating meat is "eating an animal's muscle" – a very confident, compassionate move in one so young. So what effect could these last few months possibly have had on an already committed vegetarian?
The answer is that although Kate doesn't eat meat herself, her husband and children do – in other words, it's her family's diet that's undergone the biggest change since the video's release.
"Like any mother, I want to feed my children healthy food", she explains. "I'm even more cautious about what I buy now. My kids no longer have meat every other night – only once, maybe twice, a week. And I always source it carefully. Buying better doesn't have to be more expensive – you just need to eat a bit less!"
Championing education
The actress firmly believes that the best way to bring about change is by informing the younger generation. Her view is that the most effective way to encourage discussion and debate around factory farming would be to approach it through the theme of sustainability, a subject many schoolchildren already identify strongly with.
"Children these days are much more environmentally aware than ever before. So if the message reaches them from an environmental angle – thinking about emissions, say – that could be really effective."
"Schools could, I think, be doing more about these issues", she adds. "They talk a lot about humanity and compassion in schools already – why shouldn't animals be part of that?".
It's a startlingly clear, convincing point, and one that reinforces our own view here at Compassion on how crucial education is when it comes to developing healthier food habits throughout society.
A final word
Of course, it's not easy to tell how many of the viewers of our hit video will be taking positive steps to alter their food habits for the better, although – given its great and growing popularity – we certainly hope that's the outcome.
One thing, however, is patently clear: Kate Miles, star of 10 million screens, is absolutely behind Compassion's cause. This is a woman who believes in treating animals humanely, in buying better-quality meat and in altering diets, en masse, to create lasting change.
"Compassion is a fingertip away from changing the world. We can all play a part in making things better – and that's terribly exciting. It's all about small steps, small victories. And this video was one of them!"
Have you seen – and shared – The Secrets of Food Marketing? Let us know your thoughts on Twitter or on our Facebook page.
Together, let's take action to fix our food!
Pledge to help end factory farming. Submit your email address to allow Compassion in World Farming to send you urgent campaign actions and news (you can unsubscribe at any time).