Published 21/11/2014
A new free-trade deal between the US and Europe is in the pipeline. It's designed to boost economies on both sides of the pond, but what will it mean for our food? Many fear a dangerous dip in standards across the board. Here's why.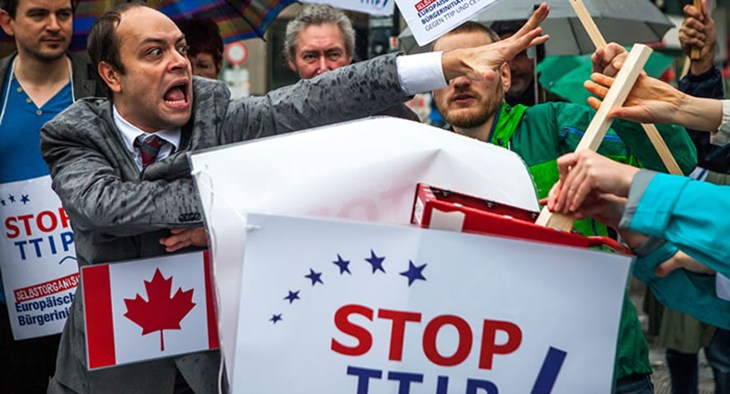 The Transatlantic Trade and Investment Partnership might be a bit of a mouthful to say – the acronym TTIP ("tee-tip") is far easier – but its aim is a simple one. The proposed pact would remove a range of barriers to trade for big business, making commerce between the US and EU more prolific than ever.
If the agreement goes ahead, as it might do by the end of 2014, it will encompass a staggering 46% of the world's gross domestic product (GDP). It is, quite literally, a very big deal.
Fierce debate
But TTIP is dividing opinion. While its supporters emphasise the economic growth and rise in employment they believe will emerge from the pact, its critics warn of a spectrum of troubles ahead – from increased corporate control to the slipping of food and farming standards.
Below, we explain how the biggest trade deal of all time could affect each and every one of us – by changing what we put in our bellies.
Slipping standards
For anyone striving to create a sustainable food system, the greatest concern raised by TTIP is that goods produced in the US – where farming standards are often worse than in the EU – could infiltrate the European market.
So how would this come about? The deal would involve the levelling of regulations across the two regions so that exporting companies would only have to comply with one sets of rules, rather than two. In reality, this would amount to the dumbing down of EU standards (which generally leave a lot to be desired, anyway) so that they're closer to those of the US, where GM foods are run-of-the-mill, pesticides are used liberally and growth hormones are commonplace in beef production.
And that's just the TTIP of the iceberg – such slipping standards could encourage the growth of more factory farms, which would, for many reasons, be a catastrophe. So if the deal goes ahead, our access to fair, sustainable and safe food here in Europe could be put in serious jeopardy.
EU animal-welfare standards would be threatened because TTIP wants there to be "regulatory coherence" between the EU and the US. The US has virtually no animal-welfare regulations at federal level – so how can we have "regulatory coherence" with a country that has hardly any regulations? It will be very difficult for the EU to enact good new welfare laws in the future, because it will first have to show them to the US, which will put huge pressure on the EU not to go ahead. We've already seen this with cloning, where EU proposals are very weak so as not to offend the US during TTIP negotiations.
Corporate clout
The other danger of the deal is the – massively generous – concessions that are being made to help foreign investors achieve growth in new markets. It's rumoured, for example, that TTIP will allow "big-ag" to challenge, and possibly even sue, governments if a change in policy threatens future profits.
And when it comes to the industrial-meat industry, that's obviously a serious worry – because, as we already know, the safety of our food, farm animals and the planet is just not a priority in many countries, including the US.
To add insult to injury, negotiations are far from transparent or democratic, leaving most of us in the dark about decisions that could profoundly affect our lives.
A parting word
The bottom line is that if TTIP goes ahead as planned, existing rules and safety measures – that exist for the benefit of animals, consumers, farm workers and the planet – could be dramatically and disastrously undermined. Frighteningly, that includes food-safety issues.
And that's why Compassion in World Farming is at the forefront of a growing body of like-minded organisations that are challenging the European Commission and the governments of the EU at every turn; to make them listen and to make them keep our food safe.
Trade is an important driver for jobs and improved living standards, but only if it's seen as a means to develop a safe and humane food system, not if it's seen as an excuse to abandon it.
There can be no doubt that sacrificing our deeply held values in the name of liberalising trade would be nothing short of catastrophic. If you feel strongly – as we do – that TTIP should be scrapped or fixed, then add your name to the petition from our friends over at Stop TTIP.
What do you think about TTIP? Let us know your thoughts on Twitter or on our Facebook page.
Stay updated on issues like TTIP!
Submit your email address to allow Compassion in World Farming to send you urgent campaign actions and news (you can unsubscribe at any time).