Published 22/01/2015
Milk is cheaper than bottled water – this is the unbelievable news that has hit the headlines again recently. We take a look at the dangerous race to the bottom on food prices and explore how to get fair food back on our plates.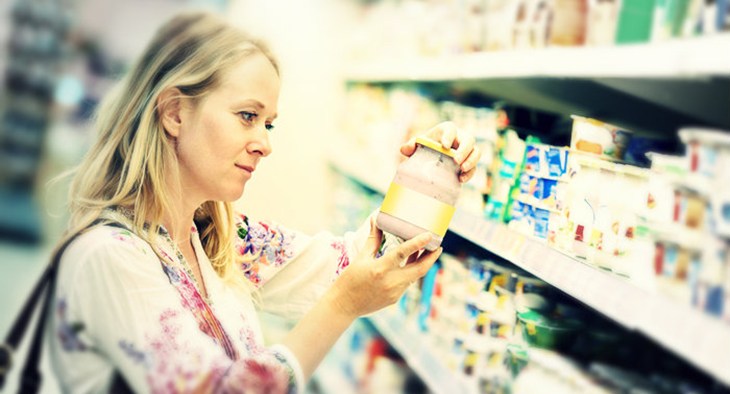 It has to be one of the most familiar routines of modern life: we traipse around the supermarket, pile up all manner of goods and then stand dutifully in line as they inch their way from conveyor belt to packing area. Either that, or we click our way to a full cyber-basket.
But how many of us pay attention to the prices that flash up at the checkout? And we're not talking about a quick check to ensure that two-for-one deal went through; we're talking about giving real thought to what those individual numbers actually mean.
Prices, past and present
Throughout history, price tags have represented the value of goods. They have told a story about the life of the item they're attached to – in the case of food, this might include everything from the raw materials used to grow the product, to its harvesting, processing, packaging, marketing and delivery. In theory, the more labour- and resource-intensive, the higher the cost.
But as our bargain-basement milk so vividly attests, many price tags fail to reflect the true cost of the goods they represent; they are often wildly distorted mirrors of the food-production process, brandishing inaccurate prices in the name of shifting stock.
Pile 'em high, sell 'em cheap
There can be no better illustration of this pricing problem than factory-farmed goods. The "pile 'em high, sell 'em cheap" philosophy of this kind of agriculture completely ignores the huge cost of the industry to farm animals, farm workers and communities, our health and the countryside. Not only are retail prices for these products artificially low, but the industry's shameless commoditisation of meat, eggs and dairy undoubtedly encourages our "throwaway" culture, which is defined by over-consumption and waste (households in Western Europe throw away a staggering 30% of their food).
Crunching the numbers
So here is a million-dollar question: why are the real costs of "cheap food" being so blatantly ignored? Here are three thoughts:
Supermarket "price wars": The age-old phenomenon of competitive trading has been exaggerated in recent years by multi-billion-dollar businesses striving to undercut each other ever more viciously. The financial crisis has made this race to the bottom on prices even more pronounced – the belief that consumers are motivated by money, and money alone, has driven big brands to discount like crazy. The result? A furious period of competition, known as the "supermarket price wars", which is still very much live and kicking.
Growth at all costs: Even today, the doctrines of economic growth and consumer choice (arguably both illusions, to some extent) remain sacrosanct, making the idea of policy measures to influence food systems fairly "toxic" from a political perspective. It will take courageous, forward-thinking leaders to tackle this challenge.
Misguided subsidies: Exacerbating the widespread "cheapening" of our food are misguided government subsidies, which – in many countries – make factory farming appear more cost-effective for farmers than it actually is. In North America, for example, it's widely acknowledged that government-subsidised animal feed – corn and soy – has catalysed a factory-farming boom. The cheaper feed creates artificially cheap products, and this encourages consumers to buy lower-quality meat.
The solution
Although there's no quick-fire solution, there are a range of possible changes at our disposal that could make a positive difference:
We need a more honest market, which reflects the true cost of food production. This could work both ways, with healthier food made more affordable (with its ethical and environmental benefits factored into prices), and less healthy, less sustainable food made more expensive (with its negative impact on animals, people and the planet reflected in prices).
We need farmers to be incentivised to champion more sustainable farming systems, with high animal-welfare standards. This would almost certainly involve an overhaul to the current systems of farm subsidies, such as the Common Agricultural Policy (CAP), which leaves much to be improved.
We need to encourage consumers to support these better farming systems. More accessible information – such as clear food labels – would be a great start.
All of this might mean that we end up paying a fraction more for our meat, eggs and dairy, but we'd avoid many of the crippling extra costs we're currently paying further down the line – the environmental clean ups and the cost to our overburdened healthcare systems.
Clearly, care needs to be taken so that people on lower incomes can still afford higher-welfare food; after all, everyone deserves to have access to affordable, high-quality, nourishing food. But there remains an urgent need for more authentic price signals attached to the goods that we buy.
Despite the challenges we face, we're hopeful that we can turn things around. We'll leave the final word to Tim Lang, professor of food policy at London's City University, who said in Newsweek:
"We have to tackle a situation that is dire, but we are having a debate … There's a really important movement building up around demanding decent food for people on low incomes and high-quality food for all. It won't be quick: we're in the middle of a long-term recalibration [of the food system]. I'm very optimistic, because without it, public health and the environment are in deep trouble."
Let us know your thoughts on this story on Twitter or Facebook.
Help fix our broken food system!
Submit your email address to allow Compassion in World Farming to send you urgent campaign actions and news (you can unsubscribe at any time).