Published 14/01/2015
If you've seen the Harry Potter films, you'll know the silver-eyed, otherworldly character of Luna Lovegood, played by Evanna Lynch. But, unlike her onscreen persona, the actress has her feet firmly on the ground – especially when it comes to food.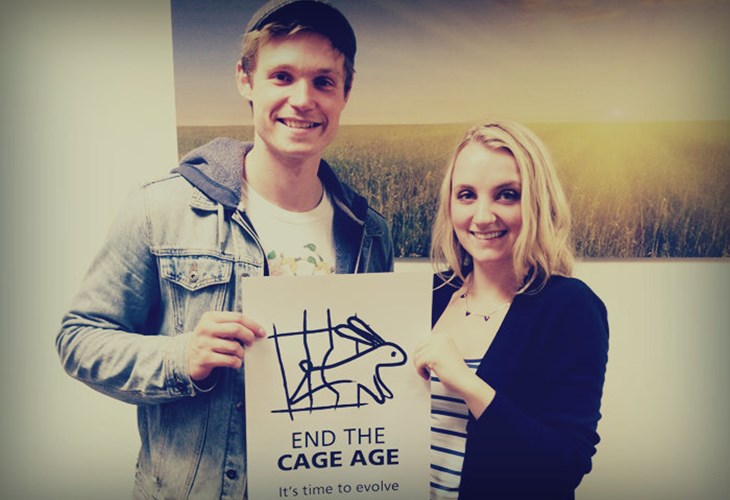 On a bright and breezy winter's day on a hilltop farm in Surrey, Compassion's newest supporter stood face to face with a herd of happy cows. We'd arranged for actress Evanna Lynch, star of the Harry Potter films, to visit the higher-welfare beef farm of Jackie Cox – a champion of humane, sustainable livestock farming who supplies Sainsbury's Taste the Difference range, among others.
An affinity with animals
Evanna, who came across Compassion a year or so ago on Twitter, told us how she'd been bowled over by our work to bring about an end to factory farming, and had resolved to increase her knowledge in order to spread the word more powerfully about the importance of better food and farming.
"I'm a vegetarian, but my family isn't", she explained on the way to the farm. "So I just want to know what I can tell them. I know they'd support these kinds of farming if the knowledge was available to them."
From film set to farm
Within moments of arriving at the farm, Evanna was up to her ankles in mud and making a beeline for the nearest barn, where a dozen or so cows munched on silage, stretched out languidly on the straw-strewn floor or made their lolloping way out through the barn doors into the open field beyond.
It was inspiring to see this ethereal Irish film star completely at ease in her earthy surroundings, where wide-eyed bovines, instead of flashing cameras, fixed their gaze on her.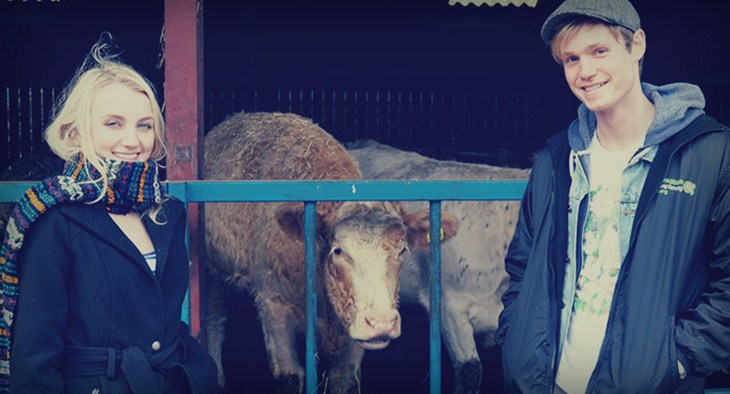 "They're really sweet-looking animals – they're beautiful!", she exclaimed, dazzled by the strikingly robust cattle looking her straight in the eye.
Captivating conversation
Then Evanna did exactly what she'd set out to do on this visit: she found out as much as she could about Jackie, the farm and the benefits of higher-welfare farming, asking question after question in her distinctively unassuming way. She was, quite clearly, captivated.
And she wasn't alone. Accompanying Evanna was actor Robbie Jarvis, who plays the young James Potter (Harry's father) in one of the films. As the conversation unfolded, it became clear that he was just as fascinated as Evanna.
"We watched Food, Inc. At the end of that I think we both felt as much for the farmers as for the animals – the farmers don't seem to have any choice", the actor said, with piercing insight. "They are roped into it and will go bankrupt if they don't do what the big corporations say."
Jackie nodded in agreement, but insisted that change is possible with enough momentum: "I'm only a very small farmer – it's not enough for me to throw my weight about with the big brands. But if there were more of us, we could change the system."
A formula for farming
Jackie Cox and her husband became farmers around 25 years ago, after lengthy discussions on how they could make their dream come true. While Jackie went to agricultural college, the couple juggled family life – they had two small children – and several jobs between them. But they made it work, buying four cows "before it was trendy". The rest is history.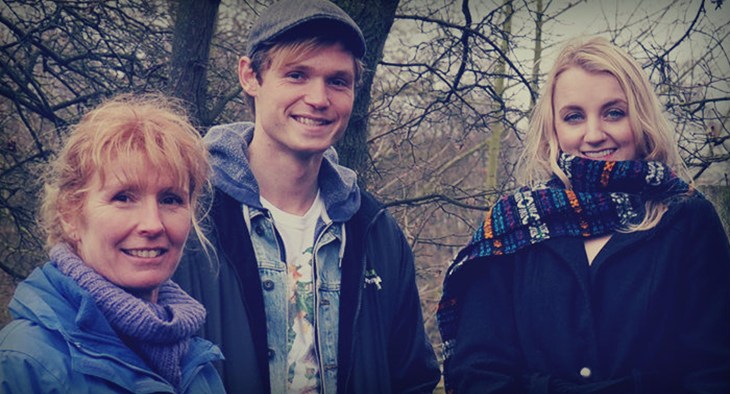 What's so compelling about Jackie is that her philosophy on meat is a very simple one: "Buy smaller quantities, eat better quality. It's such a simple message – you know, it's not rocket science. It's far easier to do it right than it is to do it wrong".
Parting words
The farm may have been a far cry from the set of Hogwarts, but its green paddocks and grazing animals had left a strong impression on Evanna and Robbie. As the actress said to Jackie: "It's so inspiring – it really is amazing what you do".
We couldn't have put it better ourselves. Jackie's farm is a spectacular showcase of how farming could and should look; it's a beacon of hope and a stark reminder (if any were needed!) of why Compassion in World Farming strives to end the cruel and crazy practice of factory farming, which must be stamped out to make way for a more sustainable farming future.
Let us know your thoughts on Evanna's story on Twitter or Facebook.
Join our movement to End the Cage Age!
Submit your email address to allow Compassion in World Farming to send you urgent campaign actions and news (you can unsubscribe at any time).